1. introduction
2. suspension lessons
3. stressing
4. chassis 101
5. Autodynamics
6. jet set
7. sun set
8. Raceware
9. enter the Seven
10. skin deep
11. the DSK concept
12. the list list
13. DSK hits the road
14. postscript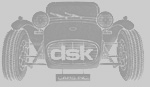 presented by
SimpleSevens.org
Postscript
A few years later, I sold the prototype to a wonderful enthusiast named David Pierce from New Mexico. He autocrossed the car for several years and Smith visited him to service it as I understand. We built a second "Production prototype" that we called P2 for David's wife. It had a hot crossflow with Webers and Dave Bean cam, pistons, head, etc. It was a handsome silver car with an especially fancy red leather interior.
These photos of "P2" were provided by Esko Ala Nisula, who lived near and often visited the DSK works. They detail the adjustable pedal box, the sharp leather interior, the additional torque absorbing link in the rear suspension, the 'Formula Car' front suspension upper A-arms, and some details shots of the freshly skinned DSK frame.
This is my own dsk seven! Actually Avrum Belzer and I share it.It was alternatively called the "second prototype," "prototype #2" and the "first production" DSK seven. The engine is a full Dave Bean "C" and was the original "mule motor" used before we built the the 1st turbo motor for prototype #1. This car is garaged nearby and takes an occasional Sunday jaunt. We originally built it for the wife of the fellow who bought and raced the prototype when I went off to school. He still has that red car and I believe that Carroll Smith still maintains it. This one got beautiful silver paint and that fancy interior, then sat in Motor Burns' body shop, Motor, Inc. from 1980 until about 1989. I saw it there when visiting Paul (Motor) Burns a couple years after I got out of law school and phoned David Pierce in New Mexico. He allowed as how he and his wife had moved on and no longer wanted the second car, so I made him an offer, finished a few little details to make it driveable, and had a brand new DSK Seven that was about 9 years old. Avrum was my engine builder and is the fellow you see in the Car & Driver article standing over the prototype that the magazine tested (last picture in the article).
David Kaplan on DSK Drawings, Dimensional and Otherwise
Original DSK drawings provided by Esko Ala Nisula
That's my handwriting. I recall drawing these. The vast bulk of the drawings we used at DSK cars came from four sources:
1. Paul Wasserboehr (whose drawings we supplied to Dennis Ortenburger for his book, but which Dennis did not credit to DSK cars). Paul did most of the nice illustrations we used in the various bulletins, the comparative chassis drawings (stock vs DSK) that Car and Driver published and many other technical illustrations.
2. A full set of formal engineering blueprints for the DSK chassis and components that Carroll Smith drew as part of out production project. I think Pat has these now - I have a set too (somewhere)
3. Humorous cartoon-style drawings such as those used on some postcards and Christmas greetings drawn by Chuck Goss. A local neighborhood enthusiast who worked for us for a while and then left to open his own bicycle shop (Cycle Analysis). He only drew a few of these, but they are a riot. (Paul Wasserboehr also did some of these, if I remember correctly - the less cartoon-looking ones)
4. Working sketches that I drew for the mechanics and fabricators out in the shop, such as these two of the battery box and fuel cell brackets that we used. I produced these on an ad hoc basis as needed. There are lots of them.
David Kaplan on Alfred Gomm, Metal Smith
I once had the good fortune to meet master metal smith Alfred Gomm at his shop in Old Woking. According to Alfred, Gomm Metal Developments skinned the first Seven (cycle fender) prototypes and went on to make many prototype and one-off components for Lotus and then for many other Formula One teams. I met Alfred on a business trip to Jolly Olde in the mid 1970's, on the same visit that I secured exclusive US marketing rights for Caterham Cars. At that time, Gomm was still the primary fabricator of complex fabricated aluminum bulkheads for monocoque Formula One teams - almost every team used Gomm bulkheads then. RaceWare, Inc, a racing parts affiliate sold Gomm's fabulous dry sump tanks. These had beautiful fabrication, functional swirl pots to remove bubbles and effective baffles. They were the gold standard back then.
Gomm told me that they skinned the first Seven for Lotus in one day! Lotus dropped off the chassis in the morning and picked it up next day (so he said). Looking around Alfred's shop in Old Woking (when they call someplace old in England, they mean it) it was not difficult to believe that a simple project such as skinning a Seven would not have slowed them down much. I still have a big green Gomm Metal developments sticker on my toolbox. No one has ever asked about it. Gomm was one of those geniuses that remained behind the scenes yet made contributions we can all admire.
Pat Prince, Prince Race Engineering
John, I know nothing of the pre-DSK days, except as told by elderly pals, but the later stuff sounds accurate. I knew most of those guys pretty well, particularly Norm Marx. His wife not only hated Dave, but Clayton as well. I think she hated everyone... she probably hated Norm! Bruno arrived in Boston one day, from Italy. He had no earthly idea what he was going to do for a living, and didn't speak English. He wandered into 2 Barnard St. one day and said "Me weld". Kaplan led him by the arm to the D-9 fixture and said "There chassis....you weld". Motor was a gruff, impatient, biker- type character. Very talented body guy. Del was working at a corp. think tank in Boston by the time DSK arrived, but stopped in often to chat....brilliant man. The formula car prep shop business was a new concept back then, and I believe that Chris was one of the first. He was well respected and MRG was a household word among racers. Ray Caldwell eventually went to work for his former employee, Reeves Callaway, who became wildly successful. (I never met either of them). Clayton had lots of money....I don't know his history. He obviously had the privileged and proper Boston upbringing. He had an odd hobby of collecting wealthy or famous acquaintances. We were having dinner one night at a restaurant in Fanial Hall. He eavesdropped his way into a conversation with an elderly, clearly prominent couple. Charmed them, traded business cards, etc. On the way home, he was giddy with "The big score". I had no earthly idea, and didn't ask...one more of life's mysteries. I did not buy the assets of DSK. Clayton offered and I declined.
Clayton gave me a deposit to build the last DSK 7. I made all the parts, and the chassis up to the point of his "special" roll hoop. Months went by...he couldn't decide (His wife was sick). He finally said screw it. I sold the "kit" to a friend in Denver last year. John, if you make contact with either Clayton or Norm in you research, please let me know...I would love to chat with these long- lost pals. Pat