1. introduction
2. suspension lessons
3. stressing
4. chassis 101
5. Autodynamics
6. jet set
7. sun set
8. Raceware
9. enter the Seven
10. skin deep
11. the DSK concept
12. the list list
13. DSK hits the road
14. postscript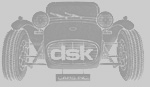 presented by
SimpleSevens.org
2. Suspension Lessons
Working as a crew member of Sam Posey's Can-Am Team in the late 1960s was a real education in automotive engineering. Ray Caldwell had designed, and Autodynamics had built, the D-7 (FIA Group 7) race car to replace Sam's Mk III McLaren. As we toured the country with the new car in the SCCA Road Race of Champions Series and the Can-Am, the beam front and DeDion rear suspensions of the Caldwell D-7 sparked controversy everywhere we raced.
Caldwell believed that tires had grown so wide that independent suspension at each wheel was no longer needed and perhaps even counter-productive. The D-7 had beam axle "cages" front and rear. These adjustable tubular parallelograms linked the wheels together in a fixed geometric relationship. Unlike a conventional solid axle, the cage permitted adjustable static camber and toe-in. The cage held the static relationship between the wheels throughout the dynamic range of the suspension. The relationship of the wheel angles to the chassis varied together, as with any live axle. Caldwell believed it would act like "one big roller," maintaining the maximum tire contact patch throughout the dynamic range. He thought that would give an advantage in cornering force. The team struggled for a few seasons trying to make the beam axles work, but never did sort out the system to behave properly at speed. One wonders how Sam managed to control that monster at 200 mph. He had only one spectacular crash and fortunately survived it.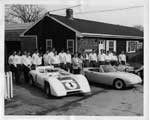 As we traveled from race to race, the D-7's controversial suspension often drew interested professional racers to our pit and paddock to talk about it. I clearly recall Roger Penske and Mark Donahue were the most intrigued with our car generally, but thoroughly critical of the unique suspension design. They stopped in frequently to talk shop with Ray and Sam and even talked to us lowly "wrenches" at times. They were always telling Sam to "order" Ray to go to a more conventional independent set-up, at least up front. Jim Hall, Bruce McLaren, Carl Haas, Dan Gurney and many other Can-Am competitors struck up conversations about our odd suspension during pit visits and at restaurants near the tracks. We had long exchanges about "camber change with roll," differential caster and camber changes in bump and rebound between wheels, toe changes due to cage flex under hard braking and many other esoteric aspects of suspension dynamics.
I remember one dinner at a greasy spoon ("Fat Boys" I think) near Laguna Seca. Several of the racers named above, some others and their crews argued loudly, albeit in good humor with Ray. The topic ranged from suspension control arm flexing to the difference in the dynamic aspects of the polar moment of inertia between an independent set-up and our "beam axle" arrangement. A 22-year-old race mechanic, my growing understanding of suspension performance, precision alignment and track tuning was nourished by these lively conversations. Caldwell's unique perspectives about suspension design ("anti-squat and anti-dive are really anti-suspension," he would quip in the shop) intrigued me. Dozens of technical brain teasing conversations with him and others back in those racing days taught me to think logically about suspension dynamics. At first, I just listened, but as I learned, I began to participate.