1. introduction
2. suspension lessons
3. stressing
4. chassis 101
5. Autodynamics
6. jet set
7. sun set
8. Raceware
9. enter the Seven
10. skin deep
11. the DSK concept
12. the list list
13. DSK hits the road
14. postscript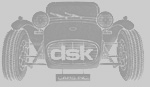 presented by
SimpleSevens.org
The DSK 7 Hits The Road
Despite our renewed excitement and enthusiasm for the project, it took us months to work through Carroll's lists. I could barely contain my excitement when I telephoned him to say that we had everything ready. He agreed to come for two weeks that summer of 1978 and build the car. I stopped sleeping until he arrived. Once he began the work, welding machining, fabricating, assembling, measuring, dismantling, re-machining and assembling again, we all stayed up late every night trying to keep up with him. Fueled by the car taking shape before our eyes, we all tried to keep up with Smith. Good luck!
The obvious progress that we made each day energized everyone at DSK Cars. Clayton was enthralled, the mechanics Jim and Creighton awe struck. Even Ellen our secretary and receptionist was impressed. DSK Cars had dismantled and reassembled many Sevens by that time, but none had gone together like this. Despite Smith's constant innovation, extreme care and thoroughness, even despite his frequent stops to make drawings, the car was coming together very quickly. He had everyone working on something. Each of us did our best work because we knew that we were in the presence of real genius.
David Kaplan attends to final details of the Turbo Seven prior to taking it to California to be tested by Car and Driver Magazine. This is Prototype 1, retrofitted with the turbo engine.
original DSK photos
The prototype build was much faster than a restoration or overhaul, even though Smith was designing some mechanical details as he went. It was no wonder that he was in demand at the best professional racing teams around the world. He was a genius alright, and the most productive wrench that I have ever known. We completed the prototype in the allotted two weeks, Smith took his turn behind me test driving it, and then he left for California. We all slept like babies that night.
Carroll Smith was enthusiastic as hell. He loved the car, thought that it worked just right and mused about putting one together for himself as a toy. The prototype really excited me, but the turbo system did not work very well. It made lots of horsepower, but had unacceptable throttle lag and fuel consumption. So the prototype engine needed more development and the full potential of the car was not immediately apparent. We took about a year or more to get the turbo system up to speed so that it had crisp throttle response and burned reasonable amounts of fuel.
DSK Turbo Seven in Southern California for Road Test
original DSK photos
Now that we had a prototype, the plan called for developing a wild turbocharged Ford crossflow 1600 engine and then convincing one of the big car magazines to road test it. That would generate sales and DSK Cars would grow, prosper and design its next model from a clean sheet of paper. We were awash in dreams. The second oil shock in 1979 was our rude awakening. By the time the prototype was finished, all the DSK bits were probably available, except the chassis. It took us a while to be able to skin them properly and have the capability to produce and sell them. There wasn't much production space in our shop either, so we farmed out nearly everything except assembly and restoration of the cars.
DSK Turbo Seven in Car and Driver Road Test, May 1982