Engine Technology Company, an Autodynamics spin-off across town (that I helped to found, but that's yet another story) re-hired me just to prepare this car (after laying me off to swindle me - again that other story). They supplied engines to the Autodynamics "factory team" and fielded this private entrant car during 1970 season. They had won a few national level races and qualified for the run-offs. They were able to obtain a substantial sponsorship from "KeyLocks Inserts" a new Division of Phillips Screw Co. to go to the SCCA National Championships at Road Atlanta (the "run-offs" as we used to say). I had an excellent short term pay package and virtually unlimited resources and budget to overhaul the tired car and prepare it for the run-offs. Whoopee, I was psyched.
I weighed the car on four wheel scales and then tore it down to a bare chassis. Scrutinizing the chassis paint for stress indications, I noted some areas of likely flex. I weighed the four suspensions and the wheel-and-tire assemblies. Then I set some targets for corner weight reduction and for a weight shift from the rear of the car to the front. I got Bruno at Autodynamics to beef up the chassis to my specs and add some brackets and a big battery box up front. I move the battery and some oil system components and everything else I could to the front of the car. I weighed six brands of wheels and chose Minilites. I dumped the Firestones over objections because they were egregiously heavy ("They don't call 'em Stones for nothing") and had no stick advantage, altogether shaving several key pounds from the unsprung weight. I scoured the catalogs and airports for titanium bolts and got a friend at Hanscom Field to order some huge sized ones that fit the uprights. I went crazy reducing unsprung weight, shifting weight forward and hitting minimum weight. I weighed shocks and springs, rod ends and VW brake parts, then drilled and milled and ground down everything I could to reduce weight.
Meanwhile, the guys (who screwed me out of my share of that shop - okay I'll stop) built engines for our car and the Autodynamics factory, including Ray Caldwell himself. The dyno testing went on all day and we talked a bunch about what they were doing and the rules restrictions. Some of the talk was about the fan and housing and that they had to be installed intact. I called a friend named Eric Sonnechson who I knew from Northern research & Engineering where I had once worked as a turbo-machinery test technician . Eric was a young engineer who knew everything about moving air with fans and fans with air - NREC designed lots of turbochargers. I told Eric the rules and brainstormed with him. We (well, he really) came up with a simple sheet metal donut that we pop riveted to the fan housing to block a huge percentage of the intake opening, thus "choking" the fan. The engines that all produced from 112 to 118 real horses on our dyno, jumped to 132+ bhp. We had invented something! It was a huge competitive advantage in a class where the cars and engines were so tightly matched.
There were lots of political sparks from Caldwell, who wielded great power, over whether Engine Tech had given him "the best" of their SV engines. They did not, of course. Nor did they give him what Paul Petricone dubbed the "McGaffilator," our super trick fan baffle. We quietly kept that little honey to ourselves and loaded up the car for a drive to Atlanta. I drove down with David Loring who was wrenching/towing for Caldwell. We towed a doubledecker with the two Caldwell D-10s and ate burgers as we cruised at 100 mph. "My" D-10 had a brand new body and looked the nuts! We drove straight through to Atlanta and stopped for a robust breakfast of ham and eggs with a pile of grits and raisin toast.
At practice, we slipped on a McGaffilator plate and Jim Clarke went out there and screamed. My good friend Bob Appleton from Cambridge had driven down to spectate and confirmed Clarke's observations: He could easily pass any other car anywhere on the track, straights, corners anywhere. Even on the uphill entering the esses. he just blew by at will. We had the hot lash-up. This thing was in the bag as long we did not tip our hand to Caldwell. Fortunately, the front of the Type III engine was close enough to the firewall behind the driver that the McGaffilator was invisible. People started coming over to our pit and gawking at the car. We told Jim to sand-bag the rest of practice and most of qualifying. We did not want the attention. Guys like Tom Davy were just too smart and he was snooping around. They'd figure it out if we were not careful.
Our strategy was typical of any FV, FF or SV race - be in second on the last lap and then slingshot to a win. Clarke insisted that we might not even need to do that - he could just run away with the whole enchilada flag to flag. I was busting at the seems. Yahoo. We made only one slight adjustment to the shifter - Clarke was beside himself too, with the "transformation" that the car had undergone since he drove it last. He insisted that we "fool with nothing - nothing at all!" He made me promise. Here it was the night before the run-offs and I had no - zero - work to do except maybe check fluids and "nut-and-bolt" the car. I bled the brakes and clutch just to keep busy. David Loring sat in the car and pushed the pedals for me as I did that. He was so exhausted that he kept falling asleep between calls to "pump!" I removed the shift knob and carved deep finger grooves in it so that Jim's hand would be less likely to slip off and miss a shift. I could not think of anything else. Besides, I promised.
Race day dawned bright and I was really excited - until I saw the look on Paul Petricone's face when he arrived at our paddock later than I had expected. "No biggie - don't need anything," I thought. Then I realized that Paul was really upset. It seems that Jim Clarke had been up much of the night suffering from an attack of sheer terror. Jim drove stock cars when he wasn't driving the SV and he had recently suffered a bad crash. Paul explained to me in secret what he believed was going on. The crash had cost Jim an eye. He had proven in qualifying that he could still compete with the best, physically at least, even with only one eye, but the thought of another crash hit him last night and the loathsome prospect of blindness with it. He has vomiting with fear just before they left the motel, according to Paul. That's why they were so late. Jim eventually showed up at the paddock with thin, brittle smile plastered onto the front of his skull. He said all the right things and he and Paul finally decided to race.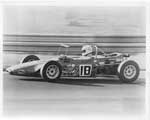 Jim started out fine from a modest position near the front of the grid - fifth, I think. We were in no hurry to let anyone realize that our car could run away and hide at will. Jim just settled for a comfortable place near but not at the front. The flag dropped and the cars all roared away. Jim stayed at or near his starting position for a few laps, then made a move, then dropped way off the pace and fell way back into the pack. I was confused and upset. A million thoughts went through my mind about what must be happening on the vast expanses of track that I could not see from the pits. As the race neared the end Jim started picking up positions on every lap. My heart pounded in my chest. Go Jim, goddamnit, go Jim! With one lap to go Jim slid into second and followed the leader. I am told that coming under the bridge, he made a move for the lead and got crossed up briefly, scrubbing off enough speed to lose the leader and let the third place car past. Crossing the finish line at the bottom of the hill, Jim was third.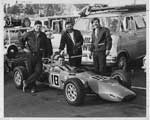 I later learned that his fastest lap as he was making up lost ground (a 1:34 if I recall correctly) was the fastest lap of the race and a new track record for SV. That record lasted for several years, even into the change to the new water-cooled engines. That was some consolation, but only after the dismal disappointment wore off. To have such a huge advantage and then lose was too much irony to bear. I was to young to realize that it was probably not unusual.