1. introduction
2. suspension lessons
3. stressing
4. chassis 101
5. Autodynamics
6. jet set
7. sun set
8. Raceware
9. enter the Seven
10. skin deep
11. the DSK concept
12. the list list
13. DSK hits the road
14. postscript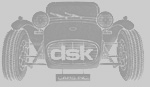 presented by
SimpleSevens.org
8. From Advertising to RaceWare
I commuted from remote, seaside Marblehead to downtown Boston to seek my fortune selling insurance and mutual funds, but found the work stultifying and left in little more than a year. I returned to Marblehead to find the old Autodynamics plant nearly empty. Jim Whitmore had bought the D-13 design and tooling and Bruno was still welding them together in the same corner. The fiberglass shop was still open, making D-13 skins, but the rest of the building was largely empty. Bob Fletcher had opened a shop across town in the old Engine Technology shop, and was building a thriving business. He serviced the same formula racing customer base that he had helped develop at Autodynamics. I offered to help both Jim's Formula Automotive and Bob's Fast Company to market their products and services and they each accepted. That began David Kaplan Advertising, a specialty consulting practice primarily for racing businesses.
Bob's infectious enthusiasm and encyclopedic knowledge about racing drew plenty of customers. The shop quickly grew in size and prestige. Carl Haas our old racing ally and the US importer for Hewland gearboxes and Lola cars gave Fast Company a dealership in both lines. The shop often had to roll a few formula racers out into the parking lot to make room to walk around the shop. I talked Dan Broun, the Editor of the SCCA's Sports Car Magazine, into paying me a modest fee to write an article about Bob and his exciting race shop. Then I convinced Bob to hire me to write the same piece. The article, called Fool's Gold, eventually ran in the June 1976 issue. By then, Bob's erratic behavior and uneven business judgment had begun to unravel the enterprise. Fast Company imploded that summer.
Just before Fast Company failed, Norman Marx the parts manager and Chris Wallach the chief wrench, asked me to help them organize their own shops when they left Fast Company. I helped Norm negotiate his way off Fast Company's bank loan and arranged for shop space with Jim Whitmore at the old Autodynamics building. I took a minority partner's role in Norm's new parts supply business called RaceWare. I answered the phones and took orders in the morning because Norm usually arrived between 11am and noon or later. Chris Wallach also started his own formula car race preparation service and repair shop at Formula Automotive and dubbed it Marblehead Racing Group or MRG. A BMW repair shop also shared space in the building. The old racing plant was coming back to life.
With four captive clients in that one building, I made a deal with Jim Whitmore to trade marketing services for the Formula Automotive D-13 in barter exchange for Ray Caldwell's old office. David Kaplan Advertising thus joined its client base in the familiar surroundings on Barnard St. By then Paul "Motor" Burns had a thriving hot rod and race car paint and body shop in the old 'glass shop, but Motor didn't need anyone to market his talents. People came from everywhere and waited years for one of Motor's paint jobs.
Keith Hughes, one of Motor's drag racing customers and the business head of the Boston Strangler B/B Funny Car team, engaged me to prepare a sponsorship proposal for their drag racing effort. An old time drag racer myself, I began traveling to some races with the Strangler Team. Word got around the track about what I did. One day, without advance notice of any kind, Big Daddy Don Garlits, the 19 year World Champion of Drag Racing's AA Top Fuel Class walked into my office at Barnard Street and asked me to write sponsorship proposals for him. I accepted and worked with him for about a year.
Bob Fletcher had moved to the coast and begun working for Dan Gurney at American Eagle Racing. He apparently talked Dan into building Formula Fords. Bob put in a good word for me with Dan and soon DKA had the Gurney Eagle Formula Ford account. So there I was, back in racing up to my ears and wondering how I could ever make a decent living doing this kind of work. All of us at Barnard Street loved fast sports cars and racing, and we all enjoyed our work, but the winters were lean indeed. Business slowed to crawl and but for a few off-season overhauls, the racing service and parts businesses idled. We needed an idea to smooth out the sales curve.