START
Lap 01
Lap 02
Lap 03
Lap 04
Lap 05
Lap 06
Lap 07
Lap 08
Lap 09
you're on
Lap 10
Lap 11
FINISH
Victory Lap
SimpleSevens
Lap 10 - Dave Clark, Lotus Seven Racer and Friend
Sy established quite a client list during the three year existence of his distributorship, but one name does stand out as more than a simple buyer/seller relationship. Dave Clark was a very accomplished Lotus Seven racer, whose success was proclaimed in advertising for Grand Prix Imported Cars in the SCCA Sports Car magazine in December of 1961.
Left: Grand Prix Ad appeared in December 1961 SCCA Sports Car Magazine

Right: Dave Clark featured as a successful user of "Oilzum"
Lotus records indicate that in 1962, two Sevens, #1357 (red) and #1365 (green) were ordered through Weathermatic Corporation for customer Dave Clark. The first car left the Lotus works on January 2 of 1962, while the second left on the 17th of the same month.
A letter from Sy addressed to Knobby Clark at Lotus dated March 5, 1962 refers to the two Sevens ordered by Dave Clark, and again indicates the challenges of dealing with Lotus on a business level and Sy's frustration in trying to keep Grand Prix as profitable as possible:
Dear Knobby,

[excerpt]
Unfortunately, parts shipped separately incur additional expenses that are completely wasteful. For example the two (2) Lotus Super Sevens purchased by Dave Clark were to com equipped with close-ratio gears installed at the works. The cars were shipped with normal gear and the close-ratio gears were shipped separately. Our original invoice included £5 per car for the installation of these gears and subsequently we were forced to pay duty and handling for these gears making our total extra expense per car $74.00 or almost £27 1/2 per car. A similar loss was incurred when the extra tires for these two cars were shipped C.O.D. separately and we incurred $80.00 or something over £28 in expenses that we would not have to pay if the tires were shipped with the cars.

I would therefore appreciate your approving credits to our account in the amounts of £55 to cover the two close-ratio gear sets and £28 for the tires. More important than the credits, however, is the closer communications to avoid these expenses which neither of us can afford if our operation is to be successful.
[end excerpt]

With kindest personal regards.

Very truly yours,
WEATHERMATIC CORPORATION
S. C. Kaback
The President's Cup Race
1962 Virginia International Raceway
Excerpt of story by Dick Gilmartin
April 1, 1962 Saturday Qualifying
2:40 - Lotus Super 7 - Dave Clark C Production
Race No. 4, Class A. B and C production
Dave Clark. Lotus Seven Sunbeam 9th overall, 1st in class. Back in the pack, starting sixteenth overall, was Dave Clark's Lotus Super 7 leading a pair of Daimlers and Morgans and a new Alfa 2000. On the ninth lap Grossman eased ahead of Thompson in the tight curve at the end of the pit straight, and led by a few car lengths until the seventeenth lap. On the eighteenth Thompson made a bid to regain the lead on the treacherous down-hill esses and got by. Then Grossman pitted with much indignation, and it was finally learned that he had passed Thompson on a yellow flag and was disqualified by the Chief Steward. The remainder of the race was run without any change in the lead cars. It was Thompson in the "A" Corvette, and Don Yenko scoring his second straight B Production victory in his Corvette after a race-long duel with Bruce Jennings' Porsche Carrera. First C Production car in was the Lotus Super 7 of Dave Clark.
In an article in the Globe dated 10-29-61, Arthur Kelly states that in his first year of racing, 1961, Dave Clark took 25 trophies in 27 starts. He went on to take 25 trophies in 28 meets in 1962 and he also took the National SCCA Class C Production Championship that year. Asked about his incredible success, Dave reported that the Lotus 7 had unusual cornering ability, was very light, had good road handling ability, and that the driver could hit the brakes much later when going into a turn, which was a big advantage over other heavier cars. When asked about the prospect of professional racing, Dave maintained that racing would remain a hobby as he liked his work too much.
In a New York Times article dated 12-27-61, Frank Blunk lists Mark Donohue as the most improved driver and continues: "Dave Clark, who started the season as a novice is the region's driver of the year. He won 27 trophies."
Sy Kaback remembers his friend...
The only one [of the previous list] I remember is Dave Clark who was a very good friend of mine. I have some photos of him in his Lotus 7. He was an outstanding driver and was at one time the National Champion. He had an interesting life. He dropped out of school in the 8th grade and was a hobo, but had a 200 I.Q! After the war, he went to college on the GI Bill and went straight through to get his Ph.D. He was an engineer for Bell Sound Labs and later the head of the computer dept. at the University of Arizona. When we both gave up racing, we took up sailing together. Unfortunately, Dave developed MS and died in the early 90's.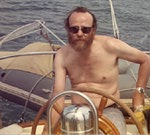 Dave Clark ca. 1970
next