Lap 01 - Introduction
Owning a 1970 Triumph GT6+ for more than 15 years, I had always yearned for an even more basic, race-bred sports car. After reading many books on Colin Chapman and Lotus Cars, and attending numerous vintage race events, I determined that a Lotus Seven was the car for me.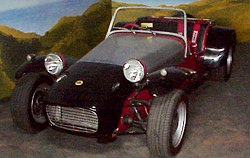 Perusing Hemmings Motor News, vintage sports car magazines, various web sites and internet classified ads for Lotus cars, I finally came across one that I couldn't resist taking a closer look at: "1962 Lotus Seven, car in Michigan, owner in Florida." A quick email to the owner and I received a phone number for the dealer who was holding the car. As it turned out, I had scheduled a business meeting for the next day, about 2 blocks from the dealer in Birmingham Michigan. Needless to say I stopped by to look at the car...
Upon mentioning that I had never driven a right hand drive car before, the young salesman admitted that he hadn't either!
After much research for the purpose of establishing its authenticity and thanks to all the helpful Seven owners on the Chapman-Era and Lotus Sevens email lists, I purchased Seven SB1135 in the summer of 2000 as an early gift for my wife's 40th birthday.
I learned from John Watson, the Lotus Seven Registrar in England, that this particular Seven had been imported into the US by Sy Kaback (the record says "Kabach" -- must be the English spelling!) having left the factory at Cheshunt on June 8, 1961. John elaborated that according to the records he holds, the engine in my Seven was of the correct type and specification, but that it was not the original, the original engine would have been #8G10RS/15271. He goes on to explain:
I am informed by the British Leyland Museum curator at Gaydon that BMC "A" Series engine numbers with "8G" prefixes are factory reconditioned units! If this is correct, then it just points to another case of Colin Chapman bucking the rules! According to factory records, about 20 of these engines were supplied in Sevens. I have corresponded with Robin Read [Lotus Sales Mgr. at the time] over this matter and he denies that it ever happened but anyway it's a good story
My initial quest was to simply (?) try to trace the car's history, but when I began searching to try to contact Mr Kaback who imported the car, I found there was very little information available about him. John Watson had mentioned that I should find a book "Colin Chapman's Lotus" written by Robin Read. As it turned out, this was one of the books I had read years ago, so I pulled it off the shelf and read it again. The book recounts Mr. Read's encounters with US Lotus Distributors of the late 50's and early 60's and includes several references Sy Kaback and his distributorship "Grand Prix Imported Cars of Rutherford NJ." the book also includes some minor background on Sy, mentioning his primary enterprise at that point, the "Weathermatic Corporation" and touching a bit on Sy's racing exploits, but no real personal history...