The 2005 Se7ens Tour USA
The Rest of the Story by Ross Robbins
For the reader who is unaware, there is a fanatical group of Seven owners, primarily Englishmen, who arrange tours for themselves and their cars in various locations around the world. The Summer of 2005 found them touring the Southwest USA, beginning in Texas and winding up in California.
Ross Robbins, a long time friend of SimpleSevens drove with the tour for 2,400 miles, from Santa Fe to San Francisco. Although others have documented the bulk of the Se7ens Tour 2005, Ross himself finished it with a blown engine which in fact, turned out to be the first step in yet another adventure which is recounted by him here... Thanks for sharing Ross!
Coming Home
The tour was wonderful and exhausting and expensive! I blew a hole in a piston and had to have the engine rebuilt. I go to pick it up and drive home from California on Friday the 11th. Wish me luck!
I didn't write a story or take pictures as it was too overwhelming to capture from one point of view. I was with them for 2,400 miles from Santa Fe NM to San Francisco, although the car was towed the last two days and about 400 miles. Besides, there were only three REAL Sevens on the trip -- interestingly all Series 3 cars within about 50 chassis numbers. Rod Thonger SB2333, me at SB2352 and Geoff Cole at SB2382, I think. I know Rod's car is on the Simple Sevens pages, I should get Geoff to send his info too. For those who want to see what a spectacle we made of ourselves click below to have David's professional photo web site open in a new window. My car is at the left end of the second row in the photo at Sears Point (Infineon) Raceway which may be found on this site.
http://www.dd1961.com/ustrip
It actually was kind of interesting that the only three Lotuses on the trip were all RHD S3 cars within 50 production numbers of one another in 1968. Both the others (Rod Thonger's and Geoff Cole's) had been converted to twin cam power but were otherwise original. A couple of wonderful Brits who have founded a group called LOUTS to celebrate twisted souls in Lotus cars.
...but on to the story after the story!
We last left our hero saying goodbye to the USA 2005 tour folks in San Francisco and following his broken steed to Woody Harris' shop in Vacaville CA on October 4th. It was towed there by the aforementioned Mr. Harris after holing a piston at Willow Springs Raceway and struggling into Tehachapi spewing oil at a rate that would embarrass the Exxon Valdez. After a suitable period of time and a generous application of money, the car was pronounced fit to travel under its own power to Colorado. Knowing Colorado weather and being smart enough to control my own destiny, I had arranged with a friend and fellow Lotus owner Bill Roushey to tow my trailer behind his Range Rover to a point west of the Rockies. Since he was headed to a rendezvous with his engine builder in Utah to pick up the completed twin cam for his Europa anyway, it seemed to make sense to combine effort. Bill was to leave on Saturday morning to Richfield Utah, get a motel room and relax until I joined him for dinner west of the mountainous terrain and potential bad weather that befall Utah and Colorado. The perfect plan! Once again hubris is tested.
Vacaville is located almost midway between San Francisco and Sacramento CA, right on Interstate 80, and that is the only route to begin the journey to Colorado. Now starting out for home at 5:00PM on November 11th means starting at dusk. I discovered several things about California drivers quickly after edging my way on to I 80They drive big SUV's & trucks with very bright lights that pierce down the neck of a seven driver, and they drive them fast. I thought 80 was the route number, but it must be the suggested speed in the slow lane. Never have I felt so small and disposable. I wouldn't have amounted to much more than a speed bump to most of these vehicles.
But I soldiered on hugging the right lane with the hope that once past Sacramento, things would be better as I had planned a route over the Sierras on US 50, a lovely winding road through Lake Tahoe and into Carson City, NV. I would have made it fine, too, but for two things. First the misunderstanding and second the weather.
The Misunderstanding: Since they had only finished the rebuild that day, one of Woody's guys had gone for a 30 minute test drive, which, considering the 1350 mile trip I was about to embark on, was a great idea. On that drive he noted the gas gauge was on empty so he stopped to put some in. What he didn't know was that it always reads empty -- it isn't connected due to the installation of a fuel cell. Anyway he said he put in $5.00 worth and I thought I heard 5 gallons. Well at $3.29 a gallon that is a huge difference. I figured I'd refill after clearing the city traffic and maybe I could make it all the way to Tahoe. Net result: I ran out of gas in the dark on the eastern part of Sacramento where the highway is 8 or 10 lanes wide, with no shoulder! Fortunately, I carry a spare gallon since the gauge always reads empty, so I put it in with the cars and trucks whizzing by and made it to an exit ramp with a gas station. After seven gallons of premium, a refill of the spare gallon jug and dinner for the driver (20 oz Coke and a giant Snickers bar) it was on the road again. And that's when I met problem two.
The Weather: I had been a devoted student of the Weather Channel for about two weeks as I confirmed the dates for the trip and was pleased to note a high pressure dome was resting over the whole southwest US for the weekend of my trip. As is often the case with western weather, local conditions belie the forecast and do as they please. Climbing the western slope of the Sierras I encountered the colder temperatures I expected but also a light mist. Now that wasn't really too bad until I got to Placerville where it started coming over the windscreen and I simply couldn't see enough to continue. I saw a small motel at Pollock Pines so I called it a night. The kindly innkeeper allowed me to park under the registration portico which represented the only cover around. The temp had fallen to about 40 degrees and the motel room managed to get to about 60 with the puny wall heater available, so I tucked in with the idea of an early start and a big day. I awoke before first light shivering. I decided to get a jump on the day, dressed with every layer I could summon and opened the door toSnow.
At this point, the choice was to press on regardless, or call Bill and abandon the plan. As I have said before, God protects drunks and fools and I clearly wasn't drunk! Press On! The good news was that the sun came out and the road was dry within a few miles, it had been a little local system. On the other hand, as I climbed in altitude, it definitely got colder. And colder. And colder. By the time I got to the summit at 7,735 feet above sea level, it was about 16 degrees and I was getting stiff hands that could barely grip the wheel. So I stopped in South Lake Tahoe at the most wonderful IHOP in the world. It was just after 7:00 AM and they had just opened. The entire staff came out to look at this tiny car with the bundled up fool. And they gave me a huge mug of hot tea to wrap my hands around. Of course, after my two course dinner, I was starved and believing that loading up on calories would keep me warm, I had the biggest breakfast in months. Finally fully thawed, I rebundled and went out to the car when the waitress came out with a camera to document the stupidity of the human species.
Holding my head as high as I dared while keeping it out of the wind, I pressed on to the downhill run to Carson City. In the next hour I lost about 3,000 feet of elevation and gained about 30 degrees of temperature. Ahhh! One state down, three more to go.
Nevada. The empty West. The part of US 50 which is officially called (you can look it up) "The Loneliest Road in America" It is a beautiful two lane highway in perfect condition that runs roughly east/west across the center of Nevada and has none of the I 80 truck traffic that is so nerve wracking in a Seven. There are about a dozen little ranges of "mountains" that run in parallel fashion, north/south across the state. US 50 runs straight as a string across the valley floors between these ranges and then wiggles up and over to the next valley floor then straight til the next range wiggle. The net effect is an absolutely perfect sports car road except for one thing: it is "The Loneliest Road in America"
Once you leave Fallon at the western edge of Nevada until you reach Ely in the Eastern part of Nevada, a distance of 256 miles, there are only two towns with any services at all: Austin and Eureka. Fallon to Austin is about 110 miles, another 75 or so to Eureka and then 73 more to Ely. In between these points is a whole lot of empty! No gas, food, people, or cell phone service, and almost no traffic. One vehicle every half hour is common, and sometimes one can go an hour without seeing any other traffic. No problem for me though, I have a new motor and a PLAN. Once again hubris is tested.
Somewhere between Austin and Eureka, on a flat straight highway that I could clearly see 5 miles in either direction, the charging light on the dash panel lit up. What could be up, I thought, that the system isn't charging? So I began slowing and prepared to pull off to the shoulder although I could have parked in the middle of the highway with no concern of being hit. As I eased to a stop I noticed the temp gauge rising rapidly. Aha! Fan belt! No water circulation from the belt driven pump would do that. So, off with the bonnet and nose cone to have a look. There was the culprit, a loose bolt in the generator bracket, and the generator lying on its side. Apparently, the bolt in the front bracket hadn't been full tightened and backed out from the vibration at some point. The poorly supported generator had broken the back plate and the fan belt was thrown. But when? It could have been a quarter mile or two miles back. And even if I found the belt, the broken bracket wouldn't support the generator. And there wasn't a soul around; just the wind, the sky and the road. "The Loneliest Road in America".
There are times when we really want some solitude and quiet, yet we cannot find it in our hustle bustle world. Then there are times when the most beautiful thing we could have is a friendly face for support. This was one of those times. And yet, there was nothing. No sound. No sign of human habitation. No cell reception. Totally, completely, fully alone. If I were to get out of here, it was going to be up to me to figure it out.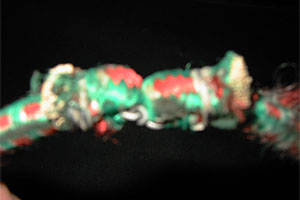 I summoned up my best MacGyver attitude and went to search for something to turn into a suitable fan belt. Now, there isn't much room for spares in a Seven, so pickings were slim. I had a small tool kit with some wire and hose, spare clothing, and some gas in a small container, all tied down with bungee cords. YES, that's it, a bungee cord! I found one that looked to be a bit short, figuring that it would stretch, and began taking off the wire hook ends. Prying them off with a screwdriver and small pair of pliers took the better part of 30 minutes. Then I had to wire the ends together with my fine wire, like a bungee surgeon which took another 15. During this time, not one vehicle passed.
Finally, I had what looked somewhat like a fan belt. Green, puny and stretchy, maybe, but it was a beautiful fan belt to me. I slipped it over the crank and water pump pulleys, bypassing the generator. I figured I could make it quite a way without draining the battery and Bill was within 400 miles. I started the car and it worked! It turned the water pump. I let the car idle for a few minutes and the temp stayed steady. Eureka! Yes that was my destination, but I wasn't sure how far it was. 20 miles? 40 miles? 60 miles? Well, I'd better button this up and get going.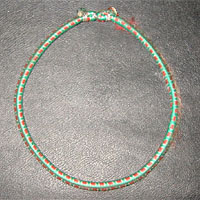 But before that, I thought I'd rev it a few times to make sure I had a solution that really worked. I flipped the throttle and the bungee flew. Well, I thought, the load of the water pump could have stretched one side and allowed the other to come off. Remount the belt and this time I'd just ease the throttle up smoothly and gently. I worked perfectly until about 1,700 rpm. Each time I got to that speed the bungee would fly off. So I buttoned things up and set off for Eureka at 1,600 rpm. First, second, third gear and we were moving. It worked fine. In fourth gear I was moving at about 24 miles per hour.
In the nearly one hour drive to Eureka, one car passed me in the same direction at about 80 and two went by the other way. I had plenty of time to reflect on the place around me and I thought of the pioneers who had no road at all. As lost and alone as I felt, it was nothing compared to their situation. They were brave folks indeed. All this reflection was accompanied by the reassuring click, click, and click of the bungee fan belt as it spun merrily around and the wire touched each pulley. As long as I heard that reassuring sound, all was well. Finally I reached the buzzing metropolis of Eureka, Nevada, Population 600. As this was a Saturday about 3:00 PM, much of the commercial part of Eureka was closed for the weekend, but the fellow at the gas station said the hardware store was open until six, and maybe they could help. So I clicked up Main Street to the hardware emporium. The very kindly lady who owned the store asked what I needed. I said, "A fan belt for a 1968 Lotus Seven". I may as well have asked for a Flux Capacitor for my DeLorean.
She said she had lots of belts if I could just tell her what size I needed. So I got a length of wire rope and went out to measure. Taking off the bonnet and nose again, I rolled one front wheel up on the curb to get a bit more working room, and carefully wrapped the wire rope around both pulleys and marked the overlap spot with my pinched thumb and finger. Into the store I marched, where we found a matching size Gates belt for a washing machine. Nothing ventured, nothing gained they say so out to the waiting car I went. It was a struggle to get the belt over the flange on the crank pulley so I put the car into fourth gear and gently rocked it forward. On popped the belt. As I checked for fit, I found a perfect half inch of deflection either too loose nor too tight.
It was now after 3:00 and I had a long way to Richfield, Utah. Without a generator, I would need to follow the Lucas mantra for certain; be home before dark! There was no way I could make that, and Eureka had cell signal, so I took a chance and called Bill. As is the case in much of any successful outcome, I was lucky. I reached Bill as he was checking into the motel in Richfield. He had just obtained a room, but hadn't even taken his things up yet, and cheerfully said he would head west with the trailer immediately. Now my mission was clear, drive as fast as possible toward Bill. Every mile I could make would be two less for him one west and another retracing east.
I drove with utter abandon; faster than I had since Vacaville, disregarding the break in rules for the motor. I drifted around the curves in the wiggle parts and flew at a varying but high rpm on the flats. I made the 73 mile trip to Ely in less than an hour, wiggles included, and stopped for gas and to phone Bill. I had a message from him saying he had passed Delta Utah and was rolling west on 50. I left a message for him saying I was headed east from Ely toward Utah. It was now past 4:30 and the light was getting dimmer. The sun goes behind the hills quite early in the west and though it isn't "dark" it is "darker". I replaced my sunglasses with my goggles and zipped my jacket and hood tightly before setting off. Again I flew toward the east without lights, but with the benefit of a full moon and a clear sky. As there was almost no traffic, I was doing quite well.
When an occasional vehicle would appear, I could see them for miles before they were near and I would ease over to the right shoulder to give plenty of room for avoidance. It got darker. I was tempted to turn my lights on, but was more concerned about running out of battery than I was of seeing and being seen. At one point, I saw in the distance the most cars I had seen all day seeming to be running is sort of a convoy, miles and miles ahead. I finally counted six sets of headlights when they were about a mile away, and decided to turn mine on when I was about a quarter mile away as there were so many. I must have been closer than I thought, as the lead car swerved when I turned on my lights, and, I imagine, wondered if a UFO had suddenly appeared in the desert. After the group passed, I resolved to use the previous procedure and just let them go by without startling any more drivers. That was almost my undoing.
After another 30 or 40 minutes in what was now full darkness, I saw an approaching vehicle and eased over to the right. As he passed, I realized it was Bill with the trailer who was now flying away from me. I hit the brakes and pumped them to make the brake lights flash, preparing to turn around and begin the chase. Just as I slowed enough to make the turn, I saw all of Bill's brake lights on the Range Rover and the trailer light up the evening sky in the most beautiful display of red imaginable. As I waited he turned around and came back to where I was. We were just past a well lighted junction said Bill so I followed him a couple of miles to the place where we could see better to load. Bill had come about 175 miles west and I had gone about 150 east. We got the Seven secured on the trailer and headed for Dinner.
We found a really nice Prime Rib spot in Delta, had a delightful dinner and went back to Richfield for the night. When I got there where I had both a good signal and a charger, I called home to Ann to tell her of my adventure. She already knew! It seems Bill had called his wife as he left Richfield; she then talked to another Lotus Colorado member Bonnie Carpenter and mentioned what Bill was off to do. Ann had called Greg Carpenter about the upcoming LOCO party and he passed on what Bonnie had told him. As we know so well, the grapevine is faster than any planned communication. The four fastest ways to communicate: Telephone, Telegraph Television and Tell a woman!
So Sunday morning we headed off to Denver with a clear weather report and the Seven safe and secure on the trailer. We cruised smoothly to about Rifle CO where we began to encounter rain. By the time we got to Glenwood Springs, it was turning to snow. When we passed Vail, we were in the thick of an unexpected full blown wither storm, with 10 to 12 inches expected and winds too. Trucks were chaining up as required and on the pass were some who should have; several were jackknifed and slid off the road. Bill was as steady as a rock and we slowly made it over the top. The conditions were bad all the way to the tunnel but gradually got better as we came down the eastern slope toward Denver .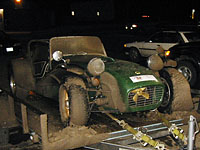 We stopped for a break in Downieville and took the attached picture. As Buzz Bilsberry said, "Why has he sprayed his car with expanding foam? Does it help keep the snow out or something :-)" No, Buzz, this is the other side of the beautiful Colorado weather you experienced on the USA 2005 Tour.
Every trip I have taken in the Seven has been memorable, unlike the dozens I have taken in a "real" car. I guess that is what keeps me setting off on these boondoggles; the sense that getting there is not a foregone conclusion. It is a bit of welcome adventure in a too regular and regulated world, I guess. And, besides, how many stories would be worth writing about driving a Minivan across Interstate 80?
Well, other than a massive cleaning job and a new generator bracket and belt, everything is fine. I do intend to take the washing machine belt along when I travel though! Now, where's the next adventure?