Dennis Ortenburger's Legend of the Lotus Seven -- The Legend Lives On
In 2007, SimpleSevens obtained a large cardboard box of materials from Dennis Ortenburger.
This was reference material for his book Legend of the Lotus Seven.

It is now 2020, I am retired, and with the current pandemic affording me yet more spare time I thought I would treat the lot of you to this trove of Lotus Seven related history. So, please stay healthy, and enjoy!
Note that much of this content takes the form of letters from individuals to Graham Nearn and Dennis Ortenburger. Of course the letters themselves were never published, but I am presenting them now on the assumption that anyone who sent anything to Graham or Dennis for the book had every intention of seeing their information in print. If you are, or if you know the writer of any of these materials, and would prefer them not to be posted to this website, please contact me directly and I will remove them.

[email protected] March 31, 2020
. . .
&quotVISIONS OF SEVEN&quot
by Allan Girdler
whose involvement in this review of reviews is more emotional than even he expected.
. . .
Original Camera-ready Ad for Series 1 Seven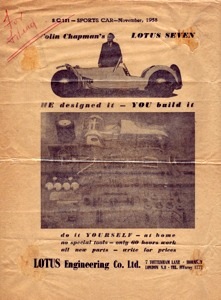 The history of David Porter's 34TPF which became Hugh Haskell's 7/20 (aka the 7 1/2)