All models are as new and unused. $23.00 U.S. each plus postage.

Unbranded: 1/43 scale Series 2, green, yellow nose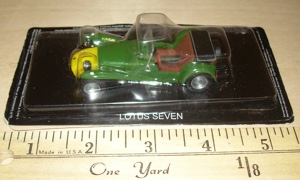 - - - - - - -
Solido: 1/43 scale look-alike Prisoner Seven, left hand drive, but the steering wheel can be moved to the right.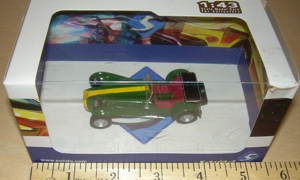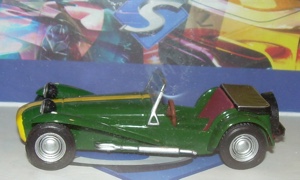 - - - - - - -
Vitesse: 1960 Series 2 fitted with the cycle wings. There is a plastic top case for this model, but it has a couple of cracks in the plastic, so the top is not pristine.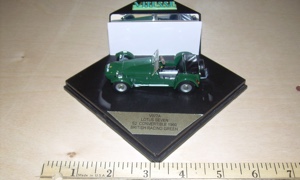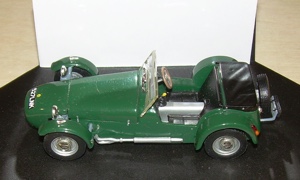 - - - - - - -
GT1 model, manufacturer unknown. The real car was apparently a 'one-off'.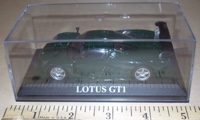 - - - - - - -
ixo Models: Lotus Elite - This is a really detailed model.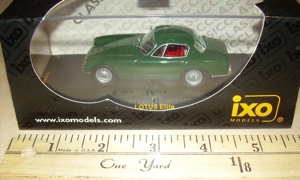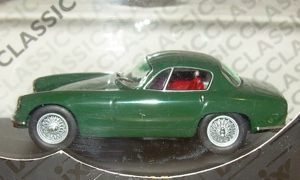 - - - - - - -
SOLD Voiturette: Lotus 23 kit, complete with full instructions, but no paint. It has a small amount of 'flash' on the castings, but this is easily removed with a fine modelers file. SOLD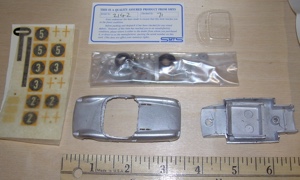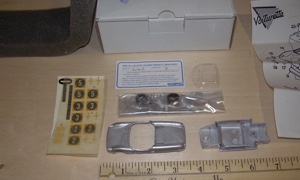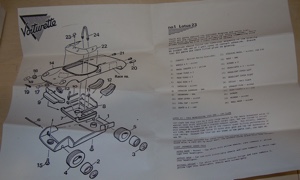 - - - - - - -
Rear axle housing still for sale (see below) with offers from anyone interested, as well as the metal tubing for a rear seat belt mount, again offers will be considered.
Also available: a selection of brackets, spacer pieces, including an as new/unused Caterham/Lotus Seven rear license plate bracket, plus a U.S. gallon of correct color Series 3 chassis paint. Regarding this selection, I will compile a list for anyone interested to contact me for details

contact Bill Fayers directly at: [email protected] or phone: 1-403-241-7750 (Alberta, Canada)
I have a used, good condition cast iron Ford 105E differential case for sale. The case is minus gears, bearings, seals etc. It weighs just under 16 lbs., and is more than 3 lbs. lighter than the equivalent cast Ford Escort differential gear case which weighs 19+ lbs. in the exact same condition. Only the alloy differential case as sold by firms such as Burton Performance weighs less. The Burton alloy case currently costs 445.50 UK Pounds Sterling. A company in the U.K. was asking a whopping 385.00 UK Pounds Sterling for a used bare Escort diff case (no gears, bearings, seals), but this has since been sold.
The 105E case still has the strengthening fins as per the Escort, but is a slimmer casting. It has the identical bolt fixing pattern as the Escort. All the necessary parts to build a spare diff. are available from firms such as Burton Performance (U.K.).
Reasonable offers accepted. Postage/courier costs not included, but I can try to ship by the cheapest method with insurance coverage and tracking.

1 piece of 1 1/2" by 3/4" by 36" long rectangular 16 gauge mild steel upper seat belt mounting tube. This can be cut to exactly fit the upper rear area behind the seat back between the 2 rear damper (shock absorber) mounts to allow the fitting of 4 or 6 point safety belt harnesses. The tube comes with 4 of 1 1/4" long threaded tubes to take the standard seat belt bolt size used by Lotus and Caterham. These threaded tubes have not been fitted as it depends on your chosen location for the upper belt fixings. Also the tube is longer than the space between the rear damper top mounts. This distance seems to vary somewhat on various Lotus chassis and can be custom cut to provide a tight fit for a good weld. When bronze or fusion welded in place, it can be made water tight and not subject to rusting as per other methods of upper seat belt fixing that are available. $47.00 U.S. plus postage (can be sent by post as the weight and size are not excessive).

contact Bill directly at: [email protected] or phone: 1-403-241-7750 (Alberta, Canada)
W. Fayers, 64 Tuscany Meadows Heath N.W., Calgary, Alberta, T3L 2T8 Canada.
Paypal is accepted on all items for sale.