April 2016 - New Owner Dann Shivley tells his story...
The first time I saw this car was about 20 years ago, in rough shape, hanging from the rafters of Mike Ostrov's shop. Little did I know it eventually would become part of my life. I met Hank Mauel shortly after he finished the restoration and we became good friends. In recent years I missed my former Seven and often mentioned to Hank that if he ever sold his to call me first. Eventually he did but the stars just didn't align for me as I watched it go on sale. A few months ago I opened a fortune cookie and it said: "Something with four wheels will soon be a fun investment for you." Two weeks later I received a call from Hank wanting to meet for lunch. To make a long story short he made me an offer I couldn't refuse and I became the latest caretaker of SB2073.

Like a lot of Sevens it's very original and at the same time it isn't. When Hank bought it from Mike, Mike owned one of the most original and stock 7A's around. So when the restoration began Hank decided to restore it back to an earlier 7A configuration instead of with the Cosworth that came with the car out of the factory. With Mike's 7A in the same shop it was easy to determine what was correct and what wasn't. The car is very true to the original 7A with all correct instrumentation and rear axle. It even has a barely visible etching on the windshield that reads "Royal Doulton Vinylex." But Hank didn't like the red interior so he changed it to the biscuit color. A fan of the cult TV show The Prisoner, he painted it in that color scheme instead of red as it came from the factory. As you can see he even had a Prisoner themed license plate and frame. The engine is a BMC but the 948 cc version has been replaced by a 1310 with a mild cam. So if I wanted to make it absolutely original I'd switch out the motor, paint it red and redo the interior. But that's not in the cards right now. The car is beautiful and goes like "stink!" It's so much fun to drive and attracts lots of attention as those of you own one knows.
I've done virtually nothing to it as it runs and looks super. I did put a clear mask over the front of the rear fenders and tidied up the engine compartment as I planned to show it. Although I was a fan of the Prisoner I let the personalized plate and frame go. The plate now reads UK 7 although that may change in the future. My license plate frame is from the Manhattan Beach dealership, Bob Challman's Ecurie Shirlee. Bob was a Lotus racer and had one the first Lotus dealerships, after Jay Chamberlain, in Southern California. Ecurie Shirlee was named in honor of his wife who died in a car crash along with their children while on her way see Bob race in Santa Barbara. The frames are very scarce and expensive if you can even find one. This is a replica I had made as an homage.
I've shown the car in two concours events so far. At the first event in Alameda, it didn't place in class but won the Mayor's Award! If you can't win in class flirt with the mayor. We did take a third in class at the Hillsborough Concours for which I'm extremely grateful. But it's definitely not a trailer queen. It's driven! So far (as of July, 2016) I've put only a hundred miles on it and it has only 2200 miles since restoration in 2008. I love this car!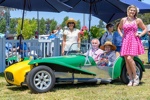 A few additional photos under Hank Mauel's care, February 2015...
Flashback to October 2007
Right now it looks like a real "Rat Rod". Soon the twin cam will be out, along with the dry sump system. I then start "real" work... finish paint stripping, change out the front DSK parts for original Series 2 bits, 1275 Spridget motor & tranny, skinny wheels and tires and the list goes on........ Will keep you posted as I progress with the work.
SB2073 was owned by my race car partner, Mike Ostrov, since the early 90's. We raced an Elite in west coast vintage racing for 20+ years. This 7 was prepped for racing, but never raced. It has DSK front suspension, a dry sump twin cam, stiffened chassis, etc etc. All the mechanicals are being replaced by a 1275 BMC & tranny, stock suspension, all road equipment. In the process, all the gauges, most of which are later add ons, are being replaced with period correct early 60's units in a new dash board...to match Mike's original 7 America. I have even scored a chronometric speedometer to pair up with the chrono tach. Also obtained the original Wingard taillights and a set of headlights. I have stock springs to go back in and will replace the racing rear fenders with the original narrow sized units. This will be a street stock "fun" car for tours and such. No racing planned...been there, done that.
January 2008
Talked to my local muffler guy and he says we can take a 3 " diameter glass pack apart and put it inside the big 3 inch side pipe, weld it up and the whole thing will look just like the photo. Cool! Can you imagine a 1275 cc Spridget motor blowing exhaust out a 3" pipe? The guys at Cruise nights will think I have a big V8 in there until I start it up!
April 18, 2008
Next stop...radiator, clutch line and oil pressure gauge line (both will be Aeroquip braided line for safety) bleed brakes, install carbs/exhaust headers and get ready to test fire... Moving forward!!! It's wired and plumbed. Next week the engine/trans goes in and we continue. The new rear panel is before final polishing, but is a vast improvement over the old panel.
April 26, 2008
Took 2+ hours fitting the tubular exhaust (on/off/on/off, etc) to get clearance for intake manifold. Tested high torque starter before installing engine. Everything turns over SO sweetly and we got 65lbs of oil pressure! Then it took only 15 minutes to get engine/tranny into the car! New suspension bits and shocks for front end installed.
May 12, 2008
Note the sexy copper line for the radiator/water pump connection. Couldn't find one of those old "shepard crooked pipes" so went with 21st century goods. Sweated the fitting which are 1" to 1.25" adapters on 1 inch copper pipe. Polished the snot out of it and sprayed on a couple coats of clear lacquer. Mike loves it!
We are wired, plumbed and ready to fire up next week. Only glitch in the wiring so far is that the blinker does not flash the dash panel indicator light when the turn signals are working. Going to try a new flasher can since we check all circuits and power does flow when the can is bypassed. Other than that, I muddled through an entire rewire with no major boo boo's! Not back for a guitar builder who generally works in wood and sawdust!
June 3, 2008
"just back from the upholstery shop". I know it's not "period correct", but it sure looks nice and this is a fun car anyway. I'll let the next owner take it back to box stock if they wish. Going to the shop on Thursday and we start with the fenders, then finish the front/rear lights, attach the scuttle and windscreen and she's on the road. Already have 5 miles of "rat rod" testing last week...no lights, no windscreen, no fenders...but boy, does she scoot!
June 7, 2008
As of last Friday evening, we have fenders and one set of rear lights installed. Had the usual fitment teething problems with the wings. Amazing since they came off that car only a few months back! Anyway, the front bonnet latches don't fit...go figure...so I am going to get a leather bonnet strap so it will look really classy!
Had hoped to get it out on the road last Friday, but visitors to Mike's shop on Thursday, a lot of kibitzing and half the day was gone. Should have it all ready and test run by next Thursday (June 12, 2008). If all goes well... and it better... I'll be at the Auburn Cruise Night on (cringe) Friday the 13th. It will be the toast of the town! Just wait til I get the yellow nose cone on!!!!!!
June 16, 2008
The last thrash days to get SB2073 onto the road. After some fits and starts due to severely rich carburetors, we got it running. The few pictures of fender, wood boot floor, etc were taken on Thursday, June 12. The test drive around the San Pablo Dam Reservoir took place that afternoon. Mike led the way with his Seven America and we stopped about 15 miles into the run to assess the condition of the car. Unfortunately, Mike discovered his left front brake was starting to lock up. We let it cool for about half an hour then proceeded back to the shop. Loaded the car onto the trailer and brought it home Thursday evening. My upholstery guy did a boot tonneau first thing Friday morning...we used Sunbrella shade cloth in a nice tan.
The shot next to the Cobra kit car was taken Friday (the 13th) at the Auburn Cruise Night. The Seven drew more lookers and comments than I expected. Spent a lot of time talking to a lot of very knowledgeable folks who really knew it was a true Lotus Seven. Everybody LOVED it, especially the 5-8 year olds who thought it was "just their size"! Still have some details to complete, but at least it's on the road.
A BIG Thank You to Mike Ostrov for all the support, knowledge and encouragement to get this car back on the road. Without him I'd just have a big pile of parts laying about! And check out the license plate...