January 2019, UPDATE from Owner Ed Holly:
Just after this story was loaded onto the SimpleSevens site, I was contacted by John Watson, our worldwide registrar for Genuine Lotus Sevens. John told me the story of SB1938; that it left the factory with a Lotus Twincam installed and was the only S2 Seven to do so. The car was shipped without a radiator to the local agent here in Sydney, Australia -- Geoghegan's. John was able to advise the engine number and from that and Marc Schagen's records we were able to work out that the Twincam engine pretty much straight away went into Glyn Scott's Lotus 27 which had been delivered through Geoghegan's new to Scott with a Cosworth 1475cc pushrod sometime earlier. (Marc Schagen is a noted Australian Lotus Historian) The engine out of Scott's car was determined also, through Marc's records, as having gone into Mrs Ann Thompson's Lotus Fifteen which in recent times has returned to the UK. There was no mention of what engine went into SB1938, but it was entered and raced as a Lotus Super Seven so it would have been to Cosworth 1500 specifications. So whether the car ever was driven as a Twincam or whether the car expedited the procurement of a Twincam needed for Scott's car is now lost in the passing of time. Marc always thought there was something special about SB1938 and asked Leo Geoghegan if there was, but Leo replied he didn't remember. Maybe one day a Twincam might rest in the engine bay of SB1938 again, but the pushrod 1500 is pretty good fun as it is.
2017
I guess like a lot of us I am a bit of a Lotus tragic, I have had a lot of racing, sports and GT cars over the years, but it is always the Lotus marque that gives the most fun in the road driving experience. When SB1938 came up for sale it was advertised as partly restored with a photo from the 1960s showing it being pushed onto a trailer by its then owner John Sexton, whom I knew quite well and who sadly passed away some years ago. So the scene was set for a quick 2000 km round trip trailer in tow to pick it up bring it home and finish off the work. (That's John in the pink shirt)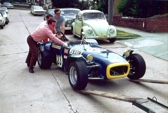 Well it didn't quite work out like that! I have to say from the moment I got her home I was questioning myself - why did I buy it? It was a mess, the race engine had 2 gallons of rusty water in it as did the rear axle housing, but I kept saying to myself I did want a genuine Seven and especially an S2, and this was it. Where else was I going to find one?
That questioning of my decision to buy, stayed with me the 16 months it took to put it back to the way it should be, and then just melted away the moment I drove it up the street and back. It was not running sweetly, but boy did it have some herbs even on a new motor at part throttle and miss-firing! Some time later, I am writing this, the carbies and tune are sweet and it is a pussy cat to drive right up to the point where you depress the loud pedal, and I am sure it breaks traction at only half throttle and mid range revs in the lower gears! I am now very pleased with that decision. How things can change ! The specs on the Seven's pre-crossflow engine should give it about 125 bhp I figure.
I am used to plenty of raw power with the ex Denny Hulme BT6 Brabham Formula Junior fitted at the end of 63 with a 1.5 Cosworth twincam by Frank Gardner, 186bhp in a 410kg package, but that was on 8 inch wide rear wheels and racing rubber, not 4.5 inch wheels and road rubber -- oh how much fun can the right foot be ?
Ok, so much for recent times, what has SB1938 done in the past? Always as a Super Seven 1500, till the regs changed to 1300 as noted in the logbook in an entry dated 27th Feb 1976, it has done an immense amount of racing. Firstly by Ron Mason in 1965 at most of the tracks in NSW except for Bathurst, in fact Ron had 10 recorded meetings with it.
Kel Munyard was the next owner from mid 1967 and Kel raced it 11 times again the same venues as his predecessor. In mid 68 it went to John Sexton who repainted it green to blue and there is a wonderful colour shot of John and mates pushing it onto his open trailer (shown above). John raced it 11 times till the end of 1969 and this time the car ran at the same venues but also at Bathurst where it gained a 2nd placing. John was also the convener of Clubman racing in NSW.
Next was Alistair Brookman who raced it extensively at Victorian venues, then 1970-72 Leigh Vines, 1972-75 Alan Swindles, 1975 Stuart Hooper, 1976 Steve Austin and also 1977-02 at all the Queensland based venues then in that State, then back to Leigh Vine in 2002 who sadly passed away whilst restoring it back to the specs it was as he raced it which was quite different to what was original.
Then to me, and I wanted it back to original S2 specs which is how I have restored it (and which was quite a huge job). It is original except for a BMC rear axle mounted with 5 point suspension as it was converted to in 1968. I am lucky enough to have all the logbooks for the car from when CAMS first issued them in May 1968 and there are 76 race entries till 1980. There were about 24 meetings prior to log-book issue making around 100 meetings total.
As mentioned I have had quite a few cars over the years but for pure road driving fun, maybe not over vast distances, nothing compares with what a Seven offers. Presently I have the 64 Seven, a 58 Eleven S2 LeMans, a 60 S2 Elite, an ex Geoghegan Lotus 20 of 1961 and a 64 S1 Elan, so the 1950s and 60s are definitely my era.
It was quite a job to put the car back to being original. When I got it home it had been heavily modified to stay competitive in the Clubman class. This development included double wishbone front suspension with altered pick-up points, the engine moved back 12 inches and to the left coupled with the original shortened gearbox, the chassis had been modified to allow these changes, the bodywork was changed giving the car a very low profile with a chiselled nose and cut-away rear section, the wheels had gone super wide to 8's and 10's and of course the 1500 pre-crossflow gave away to a 1300 crossflow.
I was helped immensely by Maurice and Anne Blackwood who many years ago restored their Seven, also an S2 and only a few chassis numbers different to mine. With a zillion pictures and some original type drawings the task of putting the car back the way it was started. I have restored many cars including Brabham's, Elfins and Lotuses in the past so it wasn't that difficult, just time consuming, eventually the chassis was finished, stripped bare and painted with POR15. It came up very nicely and is as straight without twist as any space frame can be, I was very happy with it.
Then came the task of assembly, engine building etc. I was given the semi-close ratio early Cortina box by a mate, I sourced a good used Cortina 1500 short engine and I used a nice head that thankfully came with the car. When my Brabham BT6's twincam engine was last refreshed we put in a new 12 bolt lip seal crank, but there was nothing wrong with the old rope seal 6 bolt Cosworth one so that was used along with some twincam rods, the pistons looked quite nice so they were used. The head had big valves and gives around 10.5 to 1 and a 3/4 race cam was used breathing through twin 40's and exhaling through a set of free flow extractors into the side mounted muffler. I had a similar engine years ago in an Elfin 1.5 and it set a class lap record at Eastern Creek -- I reckon that engine was around 135 bhp and this one would be maybe 10 to 15 less with less compression.
The car was registered in August 2016, and I was able to drive it on the road for the first time. I guess it must have been over 35 years since it last moved under its own power so it was pretty exciting. I only drove it up and down our street a few times, as it was miss-firing a bit, but having never driven a Seven before it was just plain wonderful.
The engine only had about 30 minutes running so far, just enough to run the camshaft in etc, so I could only use a tiny bit of throttle, but even so was very impressed with its acceleration, didn't seem to matter which gear you were in either.
Since then till now 15 months later, I have done about 1200 miles, a lot through our local Royal National Park early in the morning, where even with the Park's modest speed limit. the Seven can be a barrel of fun. It is interesting to see the reactions of your fellow motorists on the road, plenty of smiling "chicks" with I phones hanging out the window taking photos, I've even had a big hairy Mack truck semi trailer driver hanging out the cabin window making sure I seen the thumbs up!
OK to finish for now a few notes on the car's extensive history. The car was raced from new at the following venues NSW, Oran Park, Warwick Farm, Catalina, Bathurst, Amaroo and Hume Weir In Victoria, Calder, Winton and Queensland Lakeside and Surfers Paradise. It also has logbook entries for Mt Cotton and Grafton hill-climbs. At one meeting at Warwick Farm a high mounted wing was tried, it worked so well the tyres wore through the tops of the rear guards !! The car had its degree of successes throughout its career as most of these cars would. In the 80's the car was allowed to languish unloved for quite some time until it was bought back by Leigh Vine. Leigh started to restore it back to the specs he raced it as, which thankfully included having some nice alloy bodywork done which I was able to use, he also sourced some guards and nosecone but of those only the nosecone could be unfortunately.
Interspersed in this story are photos of the car during its racing career, then when it was unloved, and now loved again... If you are interested, Club Lotus Australia did a bit of a story and it can be found by clicking: www.clublotus.com.au
Question: Is it a toy? Answer: most definitely!
And to finish off, sitting at Sydney Motorsport Park for the 60th anniversary of the Seven. Sitting next to John Sexton's 2nd Seven still much loved in the hands of his wife Melinda. SB1938 was awarded first place in the Sevens category for the concourse there, wasn't too hard there were only 3 of us.