I started racing a 1340 Super 7 that I bought new in late 1962. That car was US641532. I gave up on finding it before buying another Seven: LSB2163. I am told that 1532 was built in November of '62 and shipped to Ecurie Shirlee. I already knew that much since I ordered 1532 from Ecurie Shirlee in late '62. The pictures below were taken by Dave Friedman. He also worked for Shelby and photographed much of the team's activities.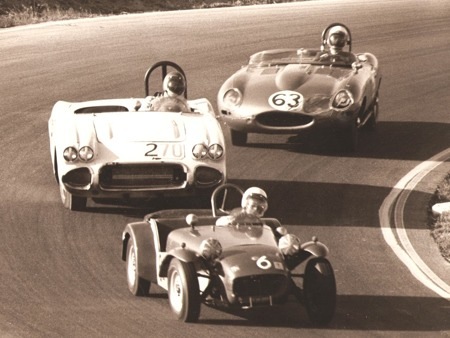 After purchasing Lotus Super 7 1532 from Bob Challman of Ecurie Shirlee in late 1962 I ran a drivers school at Riverside, Ca. on my 21st birthday, February 17. In the old days 21 was the earliest one could obtain a racing license from the SCCA. My first race was at the fairgrounds in Pomona, Ca. Don't remember finishing position. The 1340cc Super 7 was moved to B production for the '63 season so had to compete against the solid axle Corvettes. The next race was at Del Mar near San Diego. They required beginners to run the novice race which I won on Saturday but dropped out on Sunday with a broken water pump while leading.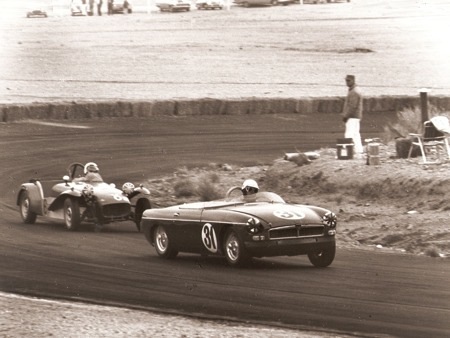 I spent the rest of the summer in Illinois and entered every race I could find which included both SCCA and Midwestern Council races. They were Milwaukee Fairgrounds, Meadowdale, a great track near Chicago-3 races, Mid Ohio, Waterford Hills near Detroit, Wilmot Hills in Wisconsin, Lyndale Farms near Milwaukee-2 races, Road America, and Greenwood Roadway near Des Moines, Iowa. Of the 7 SCCA Divisional races in the Central Division in B production that year, I won 3, another S7 won 3 and another won 1. Corvette was shut out completely.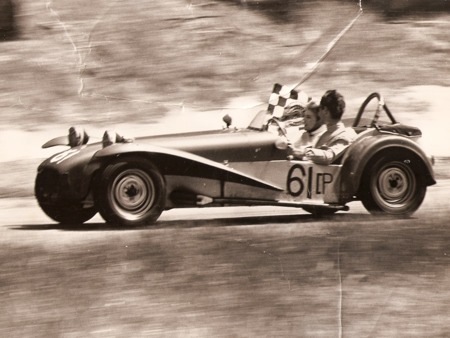 Returning to California in the fall I raced at Willow Springs, Dodger Stadium, Riverside, Del Mar, and Laguna Seca before trading SB1532 back to Challman on a Lotus 23. The 7 was bought by a Northern Californian named Jon Milledge who raced it very successfully. Jon told me recently that he saw the car on a street in San Francisco some time after he sold it. He still had the title which he sent me as a souvenir. Jon bought the car from Challman and raced it successfully for quite a while until crashing it when an axle broke. He sold it and later saw it, still damaged, on a street in SF.