I purchased SB1518 from Richard Jones. Full restoration is started, with planned completion in April 2019. I set the chassis on a chassis jig and am finishing the frame as I type this.

July 2017, reluctantly making the decision to sell...

According to the Lotus Seven Register:

The chassis number and the frame number are from the same car. My records show that the engine originally had a pair of Weber 40DCOE2 carburettors and not the SUs referred to.

According to Lotus 'buildcard' records, SB1518 left their factory at Delamare Road, Cheshunt, Hertfordshire, UK as follows:
- CHASSIS number: SB1518
- BODY TYPE: Alert
- ENGINE number: S267845E
- CARBS: Weber Pair 40DCOE2
- DEALER: Thompson & Assocs, Magnolia Trace, 2748 Abingdon Road, Birmingham, Alabama, U.S.A.
- EX-WORKS: 28th September 1962.

I bought SB 1518 in 1972 and I raced it in the same condition it was in when I bought it. It hadn't had any serious race preparation other than racing tires and no air cleaner. In 1976 and '77 I worked in Europe as an engineer on the Frigg pipeline being built in the North Sea. I had plenty of opportunity to research and buy performance parts for the Lotus. These included a transmission modified by Edmonton Engineering, an aluminum transmission housing, an aluminum tail shaft housing, a Formula 3 clutch, an exhaust header by "Mike the Pipe" and a Formula Ford Gilmer belt water pump drive. I flew home on a 747 with the transmission and tail shaft under my seat. Good luck ever doing that again.

When I came home I went to work with my Dad who had a machine shop. There I machined a solid aluminum flywheel with 360 degree marks. I also machined 1/4 inch off the top of the engine block. That let me order forged pistons by Arias that were lighter and had 1/4 inch less compression height that stock. I milled the head to get about 12-1/2 or 13 to 1 compression. I bought a pair of race prepared SU carburetors and last but not least I acquired a dry-sump oil system. I raced it for about a year until a new job required me to travel extensively. I also had a new wife to support that I had met in Paris. That was the end of my racing career.

That race engine is in my garage less the SU carburetors. The wobbly web wheels are long gone too, but a set of original Lotus steel wheels is included. When I started to get the car restored the plan was to build a 1500 cc non-cross flow motor with plenty of pep to drive on the street, but have made no progress there. That's about it for the engine.

I'm retired now and have run out of money and enthusiasm to complete the restoration. It will be a great project for someone else to finish.

The chassis is in Peyton, Colorado with Beauchamp Racing and Restoration. They have made some progress restoring and strengthening the frame and seat belt mounts. Tom Beauchamp will be glad to tell you what he has done. His phone number is 719-210-1997.

The car is complete, but in pieces at Beauchamp Racing. I have 26 pictures of the parts. I have the engine and some parts here (Houston).

June 2005, Richard Jones wrote...

I own Lotus 7 Serial No. SB 1518. It's LHD with the 105E motor. I bought it back in 1972 as a race car from an individual and raced it in SCCA events (plus the odd autocross & gymkhana) until 1976 with a gap of about a year while I worked in Europe. It has never been titled or driven on the street (legally). It has been languishing in garages and storage units ever since.

below left: Green Valley Raceway near Ft. Worth, TX circa 1973, before the new paint job.
below right: at speed, Aloe Field near Victoria, Texas circa 1975 or 6. Check that right front wheel.

You know the story: "I'm going to restore it and fix it up to drive on the street when I get the time." Well, I've finally got the time. I'm retired now and I'm going to do it! I've pulled out the motor and sent the body/chassis off to be restored. Here are some "before" pictures in its old racing livery. Plus, I bought some very interesting bits while in Europe. I was living in Paris but working a lot in the UK.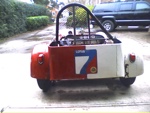 SOLD