Kenneth Smith (first known owner) lived in Ambler, PA (near Philadelphia) and raced SB1511 extensively in the Northeast. Log book is included, first inspection dated March of 1972. Ken may or may not have been the original owner. The car was dark blue with race number 77 when it was sold to Dave Heisey.
Although the serial number indicated in the log book is 1517, this is apparently a misreading of 1511. Based on the photos above (included with the log book), the corrected color scheme indicated in the book (from blue to red and white), colors unearthed during restoration, and the distinctive roll bar, the current car is undoubtedly that pictured in the period photos.
Dave Heisey lived in Myerstown, PA. He painted the car red and white and raced it in Pennsylvania Hillclimb Association (PHA) events, with the sponsorship of Penns Engines.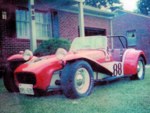 Dave reinstalled the road gear and replaced the roll bar with a simpler one as seen above, prior to selling the car to Dale & Angela Brown of Virginia.
Dale and Angela Brown raced the car to championships in 1978 and 1979. Period letters and invoices indicate that the car received many DSK upgrades at this time, including the new wheels which were bought second hand from David Kaplan. The Browns appear to have replaced the 'poppy red' with 'French blue' on nose, wings , bonnet and scuttle.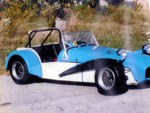 Daniel Muller bought the car from the Browns, nick-named it "Road Runner" and later sold it to Tony Robertson.
Tony Robertson Autocrossed SB1511 and drove it on the road as well. He decided to have it restored, with engine rebuilt by Buster Thompson, who in fact did engine work for previous owner Angela Brown. Significant included paperwork details the work. Engine rebuild complete, Tony sent the car to Dennis Hedges of Short Mountain Enterprises for restoration of the rest of the vehicle. During this restoration, interest apparently waned, and although the frame was stripped, strengthened and reskinned, and roughly rewired, this process took some 8 years. The car was then sold to its current owner, William Bohlander.
The following photos were taken the day Bill brought the car home some 3 years ago. He purchased it from Tony (his brother-in-law), who had owned it for approximately 12 years.
Above, partially restored but still with French blue wings
photo of the wing above shows the progression of colors.
rear frame and suspension detail
new dash panel
rough wiring completed
paint preparation for return to original blue scheme
The following work had been done at the point Bohlander took possession: frame was sandblasted, reinforced in appropriate spots, powdercoated gray, body reskinned (with the exception of the scuttle) and rough wiring was complete. You can see most of that work in the above photos. Many competition modifications are detailed in letters and invoices from DSK Cars during the Browns' ownership.
Bohlander's completion of the restoration included the following:
~all new suspension bushings
~rebuilt trunnions
~rebuilt calipers
~rotors turned
~new wheel bearings
~new brake pads
~front and rear suspension bead blasted and powdercoated silver
~adjustable upper suspension arms (camber)
~new Spax adjustable coilover shocks
~new ball joints
~new steering "u" joint
~stainless steel flexible brake lines, front and rear
~new hard brake lines
~new rear brake cylinders and shoes
~new brake master cylinder (brakes work fine)
~new clutch master cylinder and slave cylinder
~new water pump
~new alternator kit (Dave Bean)
~new distributor cap, points, rotor, plugs and wires
~Webers rebuilt by Pierce Manifolds
~new windshield
~new wiring (everything works fine): hi/low beam, turn signals, brake lights, dash lights, elec fan, wiper motor, horn, gauges, etc.
~intake manifolds and exhaust system Jet Hot coated
~new leather interior/dash/boot cover
~new tires
~new battery
~gas tank cleaned and sealed
~new fuel pump, filter, fuel pressure regulator, and all fuel lines
~new Simpson belts
~car professionally aligned
~many miscellaneous bits that photos may or may not show
Engine block number - 120E 6015
Head number - 8050 118E
Frame number - (on record with Lotus Seven Register)
Chassis number - SB1511
Engine number (on firewall plate) - S267205E
Rear is Detroit Locker with large diameter axles
The car runs smooth and strong on acceleration, idles smoothly and is extremely quick.
Includes original owner's manual.
Negatives about the car:
~ right front fender could benefit from smoothing and repainting (correct paint is included with car)
~ no emergency brake
~ no operable wipers (wiper motor works, but the linkage is not connected.)
~ transmission sometimes seems difficult to get into reverse
This is a good, strong, well-restored Lotus Seven.