A previous owner of SB1233 reports:
I am the second owner of this 1962 Lotus 7A America. It is right hand drive. According to John Watson at the Lotus Seven Registry in the UK., SB1233 was built in August 1961. It was originally polished Aluminum with Yellow nose and wings. It was delivered to Briggs Enterprises in California. As far as I can tell, this company was not related to Briggs Cunningham who was established in SoCal at the time. This car has always been in Southern California.
The original owner was an aerospace engineer. It was his daily driver. It was never a race car. As such, it is a numbers matching car; a statement rarely associated with a Lotus Seven. It still has virtually all of its original parts including 948cc A-series (serial plate on vehicle matches serial plate on engine), smooth case transmission, SU H-1 carburetors, 4 wheel drum brakes, Wood rim steering wheel, 5 gallon gas tank, and so on. It even has the original muffler, although I had it repacked. I also have a straight thru pipe that appears to be never used. I don't know if it came from Lotus or if the original owner had it made. It fits exactly on the same mounting points as the muffler.
I have owned the car for 13 years. When I bought it had been completely disassembled and sitting in the original owner's garage for approximately 35 years. I have the picture. The blue paint was applied by the original owner except for the right rear wing which was damaged in storage and had to be repaired and repainted.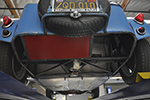 It has never been in an accident and proudly wears all of the scratches and dings befitting a vehicle that is almost 60 years old.
I had the engine rebuilt to a slightly higher standard by world renown A-Series specialist, David Anton at Advance Performance Technologies in Riverside, California. The transmission was disassembled and inspected by a local British car specialist, Harry Appleby at Viking Motorsports shop in Costa Mesa, California. The seats were reupholstered. I used black piping instead of white because I thought it looked better. The rest of the car was assembled and sorted by myself in my home garage.
I made a few easily reversible upgrades:
- Pertronix Electronic Ignition.
- Denso alternator. I still have the original generator with tachometer drive.
- Electronic tachometer. I still have the original Chronometric mechanical tachometer.
- Gear reduction starter. I still have the original starter.
- Brake master cylinder with correct bore and larger reservoir.
- Clutch master cylinder reservoir extension.
- Updated air filters. There may be one of the originals in the "box".
- Electric fuel pump discreetly mounted in the back of the car with a pressure regulator and filter. The original fuel pump location on the engine has been covered with a crankcase breather plate.
- A section of the Aluminum floor under the passenger seat was replace by a local fab shop. As you will see in the photos. They did an excellent job. I believe the original owner must have stored the battery on the passenger floor because the Aluminum was corroded in that area only.
- The differential housing has never been braced. The original owner applied some brazing on the back of the differential which was seeping oil. I covered it with an epoxy patch about 10 years ago and it hasn't leaked since. You'll see that in the pictures too.
It is driven frequently, every other week when schedule permits. It's a lot of fun to drive in the canyons and along the coast. I have no doubt the new owner will enjoy this car as much as I have for the past 13 years.
I've never seen another one like it. Anywhere.
I have many pictures and a stack of receipts. Of particular importance are the receipts detailing the engine rebuild. Included in the sale are the original parts that are not currently on the car, generator w/tach drive, Chronometric tachometer, and starter. I also have the original convertible top which I kept just in case I needed it as a pattern. It is unusable and gives new meaning to the word "Ragtop".
I posted a walk around video here: https://youtu.be/a4sFkWH1g9U
I posted a cold start video here: https://youtu.be/MuUhmnW5YlA
I posted a short driving video here: https://youtu.be/y9PeL8YLaL4
I posted a longer driving video here: https://youtu.be/U69m3FQv7cQ
I posted a dyno day video here: https://youtu.be/A8EIupT-k0c