S's Lotus 7
1960 MK7 465
UK
YXR 565 -- The Brief History of a 1960 Lotus Seven Series One by Stephen Maddalena
It was a dark and stormy night in March 1974 when my brother and I first saw YXR 565 by torch-light in a neglected corner of an otherwise deserted car park in Chippenham. Having been advertised for sale in the Bristol Evening Post, it was purchased "as seen" by us for the princely sum of UKP240.
On closer inspection in the clear light of day, YXR's bodywork was discovered to be in poor condition with its aluminium side panels, in particular, perforated by corrosion along the bottom tubes of its chassis. The decision was therefore made to dismantle car completely and re-clad it with new aluminium panels. The floor pan, side panels and scuttle were cut from 6' x 4' sheet using their originals as templates, much like following a dress-maker's pattern. Its unusual Lotus 11-like rear section was also damaged, corroded and split beyond the available means to repair it and, because of its complex crafted curves, it was consequently decided to complete the car's re-cladding to the shape of a "standard" Series One, whilst retaining its S2 GRP nose cone and clamshell wings.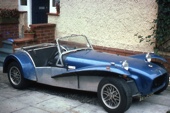 During the several years that YXR was then regularly used for daily transport, its 948cc "A-series" engine and gearbox were replaced by 1098cc and then 1275cc versions. To undo many of the "alterations" made during that time, YXR was delivered to Eddie Hopkins's Riversdale Restoration business for specialist re-building in late 2016 and returned to the road in August 2017.
Incidentally, YXR 565 evidently had a variety of bodywork arrangements since its recorded registration as chassis #465 on 3rd March 1960. These include it with a S1 nose and pontoon wings, similar to the drawings of the Peter Kerwin-Taylor designed "Lotus Seven Testa Rossa".