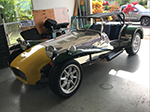 I thought about buying a new Caterham kit before moving to Hawaii & having it shipped here. This was all based on if I got 600K for my house. I didn't, I got 565K which would have added the missing 35 onto the price of a kit which I thought was too much. I was surfing Craigslist shortly after moving here & saw this 7. I bought it from Bob Keys, who lives here on the Big Island of Hawaii also. He moved here from Fallbrook in Southern Calif. He told me he was the original owner & assembled it.
Bob had the registration changed from a 1983 Lotus/Caterham to a 1963 Lotus #SB1682, which is how it is now registered. I don't know any more about it than that! He had Heim jointed, adjustable upper and lower control arms fabricated for it. He also installed or had installed a dry sump oiling system. It had 16" wheels and 205/40x16 tires on it when I got it. In my opinion, that was too much tire. He claimed he raced it at Willow Springs Raceway. There isn't a heater (or radio or whitewall tires).
I knew going into it, that it was going to need some TLC. Bob lived on a dirt road & ran it without air filters. The aluminum body was badly tarnished, there was a mouse nest in the part of the body that curls under the front suspension, it had a leaky caliper, the radiator leaked, Bob used ether to start it (I'm guessing because the float bowls would be dry; I ground the battery flat trying to start it once), and there was a lot of surface rust on most of the painted parts.
I drove it like this for a while until some of the teeth stripped off of the ring gear. I did a leakdown test on the engine before pulling it & found it had 40% past the rings in all 4 cylinders. Might as well rebuild the motor while it's out. I've restored enough cars to know that they come apart a lot faster than they go back together. Nonetheless, I took it all apart. I did some upgrading on it while it was apart. I installed a new aluminum radiator & electric fan that I got from Demon Tweeks in England, used Silicone hoses during the install, an electric fuel pump, replaced the dry sump tank, oil cooler & all of the hoses with Aeroquip hoses because the others were half US & half BSP. I don't like getting any more tools out than necessary when working on things.
It had the original circuit breakers & an aftermarket Lucas electronic ignition. I replaced the circuit breakers with a fuse box & the ignition with a Pertronix distributor & coil. I learned about John Lucas in my teens when I owned a Mini Cooper. I bought a set of 5) VTO 15" wheels through Craig Chima & had some 195/45x15" Toyo tires mounted on them. I moved the parking brake from up under the dash to the center console, new seat belts. The battery was out of a garden tractor so I found a much smaller one with the same CCA's & reloacted it on top of the console, under the dash. Installed a Battery Cutoff Switch as an anti theft device. There are 2, the fuel pump is wired to the rear fog light switch. I replaced almost all of the hardware throughout the car & replaced all of suspension hardware with AN bolts & Rod Bearing Seals. The rear suspension bushings have been replaced with Polyurethane Bushings. I had the starter motor rebuilt locally(mistake), had a new ring gear sweated on.
I noticed that the starter was too close to the flywheel when I was putting it together & learned there are 2 types of flywheels & starters. Tried making a spacer & that didn't work. I noticed an oil leak from the rear main seal so I pulled the engine again. After replacing the seal, I installed an Aluminum Flywheel (from Dave Bean) along with the appropriate clutch & pressure plate. I also installed a new high torque starter motor.
I've had it back together for a couple of years & have fixed some oil leaks & other small things that I can't remember right now. I was cleaning under the bonnet 1 day & bumped the brake fluid reservoir with my elbow, breaking the top off. I was unsuccessful in finding another. I found a 3D modeling program (OnShape) online & drew one up. I had it printed, but it leaked through the sides. I solved that by installing a Tilton pedal assembly with dual master cylinders.
It has been a fun project, the hard parts have all been done & only needs someone to finish up the small detail work. It drives & runs well. Could probably use a set of shocks & be put on an alignment machine just to double check my alignment. I did it old school with a camber/castor gauge & string. It goes straight & doesn't wander under braking.
It now has:
Rebuilt Ford Cross flow engine with:
Norris Cam
Weber Carbs
Dry Sump oiling system, new Oil tank, new Areoquip hoses, remote oil filter & oil cooler
Pertronix Distributer & Coil
Dave Bean Aluminum Flywheel with the appropriate clutch & pressure plate
High torque starter
Aluminum Radiator & electric fan
Electric Fuel Pump
Circuit Breakers replaced with a fuse box
Battery has been relocated with a electrical system master switch
5) New VTO 15" wheels with 195/45x15 Toyo tires
Tilton pedal assembly with dual master cylinders
It has custom fabricated Hiem jointed front upper & lower control arms. This was all done prior to my owning it.
Replaced all of the hardware in the suspension with the appropriate AN blots. The rear bushings have been replaced with plastic bushings
Have the original top & doors, a bikini top
Some spares; wheel cyl. & caliper rebuild kits & ???
It is a nice car. The hard work has been done, just needs some detail work & someone to drive it. I'm asking $25,000, it is located in Kona, on the Big Island of Hawaii. It will be the buyers responsibility to arrange & pay for the shipping. I will work with you when the time comes, just don't have time to arrange it.
I am available to show the car via Facetime if you're interested in looking at it. It will be the buyers responsibility to arrange & pay for the shipping. I will work with you when the time comes, just don't have time to arrange it. I realize that shipping a car my be a concern for most people, but I have shipped 2 cars without any incidents.
Here are a couple of links to shipper that regularly serve Hawaii so you can get an idea of what to expect. https://www.pashahawaii.com/tools/vehicles/ship-a-car-to-and-from-hawaii https://htbyb.com/ship-your-vehicle https://www.hawaiicartransport.com/get-quote.php
The closest shipping port on this side of the island is in Kawaihae. I would recommend using a container to ship it to the mainland. This way it would be inside during the whole journey. You can have one dropped at my house, from there I would have it loaded onto a flatbed tow truck & transfer it into the container where I would tie it down and screw blocks to the floor to ensure it wouldn't move. I have worked on numerous race car teams & am familiar with securing cars.
$25,000.00
Contact Kurt Krueger at [email protected]
located in Hawaii, USA