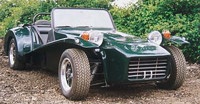 Lotus 7 SIV Ex works / Production date 7/7/72 S4/3157/S

Engine is a 'standard' Cortina GT engine which gives it leisurely performance, but I'd like to put a Lotus Twink in rather than tweak the x-flow. I acquired it this year at the Coys Auction at Silverstone for UKP2000 plus tax, it was originally built for export, and has just come from a Swiss collection. I prefer the S4 to the more vintage 7s, but then that's maybe because I'm a bit younger than most 7 owners!

Engine - Standard Cortina GT. Axle - Standard Ford Escort. Originally built for export to Switzerland, hence a steering lock fitted. How long have you owned it? Four months. Is your car restored? I've been told that it has spent many years in a Swiss collection, and it's condition reflects this. At some point it has been painted BRG, originally it was red. So, it's 'good but not stunning'! Other comments: Pictured in 'Classic and Sportscar' October issue.