I owned a red Series 4 Lotus Seven UK registration SRO 744J in the early 1980's and would like to trace the current owner to say "hello" and see the car once more.

I have spoken to John Watson, and he is aware of my car and the owners that owned and raced it after my ownership span. John does not know who currently owns it though. The list of previous owners he provided follows, though the current owner is not known:

M. D. Flowers (UK) 1970, P. W. J.
Howton (UK) 1972
David Stamp (UK) 1983
Peter Burgess (UK) n.d.
Chris Overton (UK) n.d.
I know Chris Overton has sold the car, but have not heard anything since.

Below is a picture of my old car in its original Lotus Red colour after I owned it – the then owner was Peter Burgess.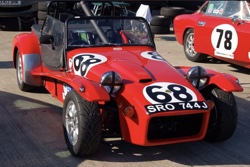 According to the UK DVLA registration number look-up website, the car still exists and is registered and used here in the UK. It is now painted green and the last change of ownership was in June 2021.
Please contact me with information:
David Stamp
email: [email protected]
phone: 07710 167698