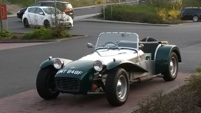 September 2017:
SB2240 is a 1968 Series 2, Originally bare ali with green wings and yellow nose.
The car was returned to the factory in 1969 after an error of judgement by the driver. It emerged with a fresh chassis along with new steel lamiplate internal panels with a biscuit coloured finish and black fibreglass wings and nose. Some series 3 features were added at that time including the configuration of the dashboard and external fuel filler cap.
Fortunately the owner was more careful and the car was used and enjoyed all over Europe until 1980 when it was parked in a dry garage. Some 20 years later it emerged rather dusty and was gently re-awakened retaining its frame, ali and steel panels and all major mechanical components including the strengthened Standard 10 axle.
The car is a lively performer with its 1500cc pre crossflow engine (same number as shown on the old green log book) and single Weber carburettor.
FOR SALE
GBP 30,000

Contact Chris Mintoft
Car currently stored in Caterham, Surrey, UK