With just over 3,200 original miles, this is likely the lowest mileage original Lotus 7 in existence. Documented by Historic Lotus 7 Registrar, and I am the 3rd owner of this car. It was sold new in Tennessee in 1965 (original title included) and used primarily as an SCCA race car from 1965 through 1969 when engine problems caused it to be parked for the next 51 years. It was sold to the 2nd owner in July 1971 with the intent of him rebuilding the engine and doing a refurbishment on the car but the project stalled and the car has now not turned a wheel since 1969.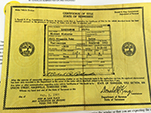 The chassis is sound and straight with only minor surface rust in areas where the original paint has flaked off. The aluminum skin is in good condition and in my estimation should be reused in order to maintain originality. There is a new aluminum hood (bonnet) with the proper S2 side scoop.
I estimate that 99% of parts needed to complete the car will be included in the sale and most are either new or have been refurbished and are ready for installation.
Here is a list of the major items but there is far more than what is listed here:
Original 1340cc Ford Kent engine, professionally rebuilt and finished December 2020 (cost nearly $4000). Block was hot-tanked, honed and original std/std crank re-installed, plus:
new pistons
new cam
new lifters
new timing chain
new valve springs
new valves
Weber DCOE 40 carburettors including:
miscellaneous chokes
velocity stacks
jets
floats
rebuild kits
Original "3 rail" close-ratio (2.5 first gear) transmission: professionally rebuilt in 2020
FIVE (5) original 4.5" wide Lotus steel wheels, beautiful center hubcaps and new Michelin tires
New fiberglass, still in gelcoat and bubble wrap:
nose
front clamshell fenders
proper 8.5" wide rear fenders
Other New Parts:
Brooklands screens
exhaust header/exhaust system
speedometer cable
brake master cylinder
rear wheel cylinders
braided brake lines
brake pads and shoes
front transmission tunnel aluminum (shifter cover area)
RHD steering rack
suspension bushings
mirrors
front grille
all lights and signals (including new chrome headlight buckets plus original AND reproduction Wingard taillights)
interior kit including seat covers and inner side panels in the proper burgundy color with white piping
white fender piping for front and rear fenders.
adjustable shocks and springs
clutch and driven disc with original reconditioned flywheel.
Other Original Parts:
Beautiful original wood 3-spoke steering wheel with center Lotus badge
fuel tank: cleaned, painted - ready to install
radiator: hot tanked, pressure checked, painted - ready to install
swirl pot: powder coated - ready to install
front anti-rollbar: new bushings installed, painted - ready to install
rear a-frame and rear trailing arms: all new bushings installed, painted - ready to install
driveshaft: reconditioned, painted - ready to install
Front fender/headlight brackets: (all 4) powder coated - ready to install
3 differentials
3 original axle housings (2 of which have been braced and gusseted)
6 rear axle shafts plus several sets of front and rear hubs
Plus there is much, much more.
SOLD