UPDATE July 2018

Just a brief update on the 1962 Lotus S7 Series 2 Cosworth 1498 CC RHD Race Car:

- asking price reduced to $35,000 USD
- engine bay, front and rear underbody have been detailed; many continuous improvements since you saw it last
- vehicle now has Florida title
- vehicle now has Florida plates and registration
- vehicle starts, runs and drives but still in mono posto (single seat) race car trim and open exhaust
- vehicle driven twice per month locally
- vehicle can be exported with proper paperwork
- new high rez digital photos will be available this weekend


UPDATE November 2017

I am the new owner of the 1962 series 2 RACE CAR previously sold here in May 2017.

The car is now located in the Sarasota Florida area and I have completed extensive functional freshening of the brakes, clutch, fuel system and engine such that the car now runs and drives properly.

With fresh race rubber it will be ready to go back on the US vintage racing circuits with SVRA and HSR. Both organizations have recognized the car and confirmed its current eligibility.

Additional details below:

- Correct-type non-crossflow motor #9E/681F 6015 CA - 1498 CC FORD 116E high- compression/COSWORTH package
- Rear axle: Lotus Cortina-4.123 ratio with Salisbury Limited slip diff
- Transmission: Mk1 GT Cortina, close ratio 4 speed
- Carbs: 2x Weber
- Accusump in passenger seat side
- Suspension: Extensive mods
- Steering: original
- Brakes: refreshed
- Shocks: SPAX
- Gauges: SW
- Windscreen - BROOKLANDS
- COMPLETE CAR SET UP NOTEBOOK

HISTORY:
- Documented chain of ownership
- Major Restoration in 1980
- Vintage Racer in SE Region

VINTAGE RACING ELIGIBILITY:
- SVRA
- HSR

RACE PREP SOURCES:
- ENGINE: DON DICKSON, ATLANTA/NORCROSS
- CHASSIS: HARRY ROBINSON, ATLANTA/ALPHARETTA, JERRY EDSEL, ATLANTA/ROME

RECENT FRESHENING - NEW ITEMS 2017:
- BRAKE MASTER CYL
- CLUTCH MASTER CYL
- WHEEL CYLINDERS
- WATER PUMP
- BATTERY
- FUEL PUMP
- BRAKE, CLUTCH FLUID
- 0IL, ANTIFREEZE
- POINTS, PLUGS

May 2017

After thorough review of the binder of documentation detailing this car, SimpleSevens is confident that this is fundamentally a genuine Lotus Seven frame produced for Lotus in the early 1960s. The FRAME is correctly stamped by the FRAME builder where it is expected to be found on this car.

It is a proper and correct frame, reinforced and updated for racing with period bolt-on DSK performance parts, including paperwork meticulously documenting all upgrades, including detailed hand drawn sketches, and various DSK informational bulletins of the period detailing the performance parts. Included in the sale is a replacement CHASSIS plate that appears to have inadvertently been stamped with the car's FRAME number rather than the usual CHASSIS number.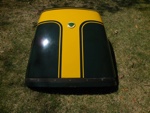 Lotus Seven SB1587 was a race car, at some point losing its CHASSIS plate for some reason. Some 30 years ago, the then owner secured a replacement CHASSIS plate, and was incorrectly advised to stamp the FRAME number onto the plate, although the owner did know the correct CHASSIS number: SB1587.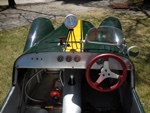 The car was raced in the late 80s early 90s. Below are photos of the car as rolled out of the garage in which it had been stored for many years. As of May 2017, the car was not in race-ready shape, but does include 100+ pages of technical details of the set up of the engine, chassis and suspension, rear end and gear box (examples below). Accusump oil pump in passenger floor as many were in those days. One racing seat with harness, Brooklands screen, fuel cell, and a non-crossflow motor with webers. The body is straight, Panasport wheels, and single hoop roll bar.
Below are just a few example pages of the documentation that will come with this car.