I knew that someday I would have to own such a car.
I was a transportation design student at Art Center at the time, and keenly interested in all sorts of enthusiast cars. The Seven America, as shown with wires, top, and side curtains, had a look of period menace that appealed to me(never mind that I have never seen a Seven equipped like the one in the picture).
By 1969 I was a design engineer with Mattel Toys, and I was in search of a traditional hot rod. Not finding one, I answered an ad in the L.A.Times for a '63 Super Seven. It was a ratty LHD 1340 Super with twin Webers, a crude full-width rollbar, and wide steel wheels with worn Dunlop R6s. Poor medium blue repaint, original top and interior, no spare or hubcaps. It did have an owner's manual, which proved invaluable in figuring out what I had bought and how to maintain it.
The seller was a young college professor who had bought it thinking that it was something like an MG or Triumph, a cheap daily driver sports car. It had been a disappointment to him, and he was selling it for $1500. I paid him and drove it home.
Admittedly my first attraction to Sevens was because of their remarkable looks, and I made several changes to my car over the years to adjust its appearance to my taste. Its even more amazing performance was gravy. Boy, was it fast!
I sawed off the roll bar within the first week. It was ugly, would never have passed tech, and ruined the fit of the top. I discovered the sloppy A-frame bushing at the bottom of the diff, which in my car was a length of garden hose. I learned that Sprite shock bushings belonged there, and soon discovered that they would be my most frequent replacement part on the car.
On the freeway one night, I ran over a piece of truck tire tread. My right rear tire snatched the chunk of tire up into the fender, tearing it completely off the car and shredding it to bits. I drove around off- and on-ramps multiple times, picking up shards of fender and pieces of taillight and turn signal on the fly. The car was fenderless for a few weeks.
I used the down time to tidy up some stuff in the rear bay. The rear bodywork was lumpy, so I straightened that and primed it; I built a plywood floor for the rear compartment, which was open to the ground. I found a lot of redundant wiring in the car, and took it out, eventually removing more than 80 feet of redundant wire (most of it lamp cord) and finding that the original loom worked just fine.
Luckily, there was a swap meet at Briggs Cunningham's Costa Mesa museum around this time, and Alan Girdler (Editor of R&T, and a Seven owner) was selling there. He had a perfect pair of used yellow S2 rear fenders for sale, which I nabbed, and my car was again properly equipped if a little more colorful. I might mention here that I never considered changing my car to the later Ford rear end and wider S3 rear fenders; I always felt that the earlier, narrower section was much better suited to the other proportions of the car, and thought that the lighter Triumph rear end might handle better.
The rear A-frame bushings failed repeatedly, and eventually the back of the diff housing cracked from top to bottom. I disassembled the rear end and had the housing reinforced in the "stegosaurus" pattern - as I recall, by the Currie rear end people - carefully re-aligned the housing, which had warped in the welding process, and reassembled it with new brake lines, Ferodo linings and rebuilt wheel cylinders. One of the rear trailing arms was deformed, apparently by somebody jacking under it, so I had a new one fabricated. While all this stuff was apart, I cleaned and repainted everything so it looked as new.
I thought the car looked neat and funky with the top up, although getting in and out was an unforgettable experience. The stock windshield was nasty, though, and Dave Bean offered me a used Brooklands windscreen at a reasonable price. Once I put it on the car, the stock windshield never returned; the wind was much friendlier over the Brooklands screen.
The gearbox that came in my car was awful. Stump-puller 1st gear (4.10, I think), unsynchronized, with a Cro-Magnon remote shifter. I found a nice junkyard Cortina GT box with much better ratios and a neater integral shifter, and fabricated a sheet aluminum mount that I thought Colin would have liked. While I had the engine and gearbox out I had the lower front corners of the engine bay gusseted, as I had read it was a structural weakness in the original design. I had noticed that my car didn't have as rakish a profile as the picture in SCI so long ago, so I cut one coil from my front springs. Better.
I spent quite a while under the dash, upside down and backwards in a claustrophobic position, during the process of sorting out the wiring. It wasn't until later that I figured out that the cowl was easily removable, but that previous meddlers had run all sorts of wiring and lines through the upper firewall, so that its removability wasn't obvious. I re-routed all of that, returning the cowl to its original removable status, and of course never had cause to remove it again.
At this point, everything inside the car looked like food-processing machinery. It was immaculate. The engine went like stink, so I had no reason to take it apart during this period. I drove it on the street, occasionally to work, and tore around on the Palos Verdes peninsula on the weekends.
This brings me up to 1972, when I moved to a new house, and apparently started taking pictures of the car. I've described the few cosmetic and mechanical changes I'd made up to this point, but one morning I painted the wheels white and shot some pictures:
Soon thereafter I entered a vintage car hillclimb staged by the MG-T register, and set the only TTD of my life. Along with the MGs and other old crocks, I beat a Porsche 550 RS Spyder, whose owner protested vehemently that I had cheated somehow. Here's how that looked: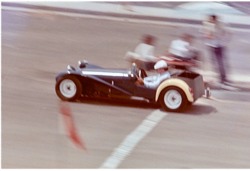 After a while, something prompted me to tear the engine down, and it had clearly been race prepared. The rods and the crankcase walls were polished, it had an Iskenderian cam which I learned was the wildest grind available, and the pistons were Hepolite pop-ups in some forgotten oversize. I don't remember now why I took the engine apart, but I had Isky refinish the cam, rebuilt everything that seemed sensible, and put it back together with all new grade 8 bolts -- except for the main cap bolts, which I re-used. I guess I couldn't find Grade 8 in the correct size, and that turned out to be a big mistake.
The Dunlop R6s that came with the car were very long in the tooth. They handled and cornered wonderfully well, but when one went flat, the local tire store refused to re-mount it, saying that its lack of tread was terminal. I bought a set of radials - I forget whose, but I didn't like them as well as the R6s - and just at the same time, Dave Bean offered me a set of American Silverstone 8-spoke wheels for $75. Let me repeat that: True magnesium racing wheels. New in the box. $75 for all 4. Suddenly I had all new rolling stock. Dave said, "They're only 4 inches wide. Who would ever want them?"
I belonged to the Lotus Owner's Club and VARA, the Vintage Auto Racing Association. Through the clubs I met Jim Gallagher, who ran the outrageously fast 'Rotus' (S3 Seven with Mazda engine), and Jim routinely embarrassed me on the track with his car. He had extended the grille opening on his car inward as a duct - kind of like an F-86 air intake. There was no longer any place to mount the grille, but who cared? It looked great! So I had Jack Kelly, a local fiberglass wizard, perform the same mod to my car.
Here I am at an early Willow Springs event, which may have been my first VARA race, with my newly altered nose and wheels. I believe the Elite ahead of me is Dennis Ortenburger (author of Legend of the Lotus Seven), and the Elan behind me is Larry Lim, who later owned the World's Most Trashed Seven.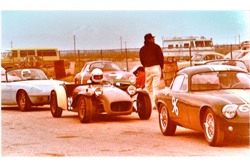 My Seven performed well at Willow, but the bracket at the bottom of the diff broke off, and I retired the car.
I did use the car for various everyday purposes, and it drew children like flies. At a Little League game one afternoon, I returned to the car to find it surrounded by kids, with one of them sitting on the left front fender. His weight had oilcanned the fender, turning its arch inside out. The many cracks that it had already were tripled by that incident, and I started searching for a new pair of front fenders.
In time I found a pair of NOS front fenders in red, which I bought and mounted, and was disappointed to discover that they were a significantly different shape from the originals. I now view these as S3 rather than my original S2s, and the backslope from the tire rearward was much straighter. I didn't like the new shape, never mind that their red color added to my car's already unsightly color scheme.
Over the next several years I raced at VARA events at Riverside, Orange County, Terminal Island, and Ontario. I'll just show a picture from Riverside, where I managed a 7th place in a field of 33 cars: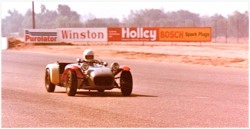 The hull was still blue, the nose and tail were in grey primer. Front fenders were red, rear fenders were yellow; wherever I drove the car, I had to suspend any vestige of pride that I had in its appearance.
By now I had moved again. This has no relevance to the story, other than to set the date around 1976. Driving it to work one morning, I got in a stoplight drag race with a Turbo Carrera. I always won street races, and expected this one to be no different, but no. The Porsche was clearly faster, and I undoubtedly over-revved the poor Ford. For the remainder of the day's driving, the exhaust had an unfamiliar harsh note, and when I got it home I parked it.
I took down the pan, and found the head from one of the re-used main cap bolts in it. Oops. The car went to my friend Tony Krivanek of Vintage Racing Services, who tore the engine down. He found that the crank, flexing against the half-supported main cap, had fractured the center main bearing web halfway up the block. Oops again.
At the time, the source for EnFo parts in Southern California was Villa Ford in Orange County. They had new 105E cylinder blocks in stock, and the price was $85! Tony selected new stock pistons and rods, and re-jetted the carburetors to suit the slight reductions in displacement and compression. The Cosworth-prepared head still seemed fine, and was re-used without change. The fresh engine was perhaps not as rorty as the loose old beast had been, but was likely to last longer.
I was still annoyed by my car's ridiculous color scheme and the shape of the front fenders, and I had Jack Kelly make an entire new set of fenders for the car. He used the S2 rears that I bought from Alan Girdler as patterns, cleaned up the flares around the wheel openings that Lotus had modeled rather casually, and widened them just a tiny bit - maybe an inch, but barely noticeable. He made a new set of front fenders from my ruined original set of S2s with the correct contour, and repaired the nose so that the raised rib around the Lotus badge was crisp and uniform. He primed all these parts and installed them all on the car, but by the time he was done I had taken a new job and moved to Connecticut. The car was shipped and caught up to me a month or so later. At least, now the car was only two colors: blue hull, grey primer everywhere else.
My time in CT was disappointing, as the company that I moved to work for went belly up six months later. I took a new job in Minnesota and moved there in early 1980. I know that the car's total time in MN was from 1980 to 1986, but I don't recall the sequence or dates of any of the following events.
I hadn't used the Seven at all in CT, but there was a lively vintage racing group in MN, and I joined it. At some point the group staged an event at Brainerd, I borrowed a trailer (first time ever), and went racing. I embarrassed myself by running out of gas during the warmup lap for my race, pitted to get gas, went back out and overheated. Bah.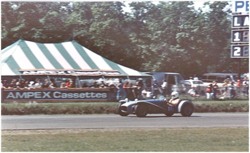 Although the engine that VRS had built for it had very few miles, I had problems with it that I don't now remember, and I no longer had access to Tony, the mechanic who was most familiar with the car. In the end I decided to replace the entire short block again, and had Dave Bean build a killer motor in California. Dave used an Elan block and bored it further, with a resultant displacement of 1620CC. A mechanic in Excelsior, MN, assembled my old Cosworth head to it and put it in the car.
This was a mistake. In all of the car's previous incarnations, from the day I bought it, the power output of the engine had been well matched to the chassis and the tires, and it would accelerate like crazy at full throttle without drama. With the additional 300CC, it would smoke the tires in 1st and 2nd gears unless I modulated the throttle carefully. I liked it better the old way, where I could just stuff my foot in it and steer.
Finally, I could afford to have the thing painted in one color. I had decided that the car would look good in red (remember, I was a toy designer); a friend-of-a-friend had a body shop and was willing to paint the car for a brotherly price, and in no time it was Porsche Guards Red, like this. Notice the CA plate that it still wore:
The final chapter in the vaguely-remembered period ending in 1986 is that I decided to sell the car. I hadn't raced it in some time, or even driven it much (Minnesota streets are not very Seven-friendly at any time of year). I called Peter Egan at R&T, knowing that he had owned a Seven or two, and asked if he'd be interested in my nice car. He wasn't. My pal Tony, in California, had met Christopher Leggett somewhere, and determined that he might be interested in my car. Christopher flew from L.A. to Minneapolis, drove the car around for about ten minutes, and agreed to buy it. I think we agreed on a price of $11,000, he flew home, and a couple of weeks later his transport guy showed up to collect the car. I never saw Christopher, or the car, again.
I remember thinking at the time that I had lost money on the car, but it probably wasn't more than a thousand or so over a period of 17 years. That amount, and the tiny prices of the stuff I bought during those years, just seem like incredible bargains compared with what all sorts of collector car stuff costs today. Pretty good bang for the buck.