SB1449 was built at Cheshunt and supplied through the Lotus dealer in Perth, Scotland to a Mr. Aitkin, first registered on plate number "7GGD" in September 1962.
Details form the Lotus build sheet --
Chassis # SB1449
Engine Ford 116E pre-crossflow 1,500cc
Carb single or twin weber DCOE-2
Colour Blue / Aluminium
Gearbox Ford
Rear Alex Ford
Brakes Rear Drum / Front Disc
Manufactured by Lotus Components - Cheshunt
Supplied by Dickerson Motors, Perth, Scotland
My father bought the car from Caterham Cars in 1981 which means it has been in my family for more than 30 of its 50 years. I inherited the car in 1989 but as I was living overseas the car remained in storage. While overseas I arranged to have the car "restored" which included the chassis reconditioned by Arch Motors, engine & gearbox rebuild and suspension overhaul. After the restoration I thought I would sell the car but thankfully I changed my mind and the car went back into storage.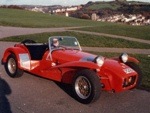 In 2008 I returned to the UK and decided to get the car back to looking like it should, something closer to what it would have been when new, including a colour change from Orange back to Blue and narrowing the rear wings etc. It is by no means finished, very much an ongoing project! The main task remaining is to sort out the inlet manifold and carburettor which are obviously not correct.
In 2010 "7GGD" was listed on the SimpleSevens web site and was seen by the car's second owner Mr. Smillie who owned and competed in Scottish hill climbs and speed events between 1967 -- 1969. Mr. Smillie was able to send me lots of information, photos and magazine articles of his racing success with "7GGD" for which I am very grateful...
Many early racing photographs and copies of the magazine articles can be seen on the "7GGD" facebook page
Original Posting from Summer 2009:
It is an ongoing project and the history I have so far is as follows: 1962 Lotus super Seven, Chassis # SB1449. Built at Cheshunt and supplied to a Mr. Aitken by Lotus dealer Dickerson Motors in Perth, Scotland. Purchased by my father in 1981 from Caterham Cars. Ownership passed to me in 1989. I think the UK registration number "7GGD" is the same as from new.
These photos of the car show its current [2008] condition. I hope to update these when I have completed some work trying to take it back to a "more" original specification.