FACTORY RECORDS:
According to the Lotus Seven records SB1197 left their factory premises at Delamare Road, Cheshunt, Hertfordshire as follows:-
- CHASSIS #: SB1197
- FRAME #: U1104
- BODY TYPE: Mk.7
- COLOUR(S): Yellow (& bare aluminium)
- ENGINE #: S229107E (Ford 105E or 100E side-valve)
- CUSTOMER: K. A. H. Curtis
- EX-WORKS DATE: 05 May 1961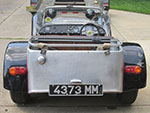 STANDARD SPECIFICATIONS:
- Available between January 1961 and early 1968 - 997cc. FORD 105E overhead valve engine with twin side-draughtH2 SU carburettors on Lotus manifold developing 39bhp at 5,000rpm. Compression ratio 8.9:1. Matching 4-speed gearbox using Triumph Herald remote and gear knob with special adaptor plate on most cars but a few 116E gearboxes with Ford GT remote and gear knob at the end of production. Standard ratios 4.118:1, 2.396:1, 1.412:1, 1:1. Reverse 5.404:1. Optional Close ratios (Hobbs?) 2.917:1, 1.696:1, 1.280:1, 1:1. Reverse 3.83:1.
- Available up to late 1962(?) - 1172cc. FORD 100E side-valve engine developing variously between 28bhp and 36bhp at 4,500rpm with either Solex down-draught or twin side-draught SU H2 carburettors on Lotus manifold. Compression 7.1:1. Matching 3-speed gearbox and 100E gearknob. Standard ratios 3.894:1, 2.007:1, 1:1. Reverse 4.79:1. Optional Close ratios ('C' type Buckler gears.) 2.294:1, 1.255:1, 1:1. Reverse 3.42:1.
REGISTRATION FOR THE ROAD:
- SB1197 was registered for the road, 4373 MM on 12th May 1961 in the London area.
KNOWN OWNERS:
- K. A. H. Curtis (UK) 1961 - Nicholas Haffner (UK) n.d. - Henry Kluck (USA) 1974 - Gary Visher (USA) 1992