Colin Nursey's 1962 Lotus Seven
SB1192
UK
May 2014: I have just acquired SB1192 an ex-UK car that went to the US and ended up in Canada. Originally registered 808PKN and still bearing the plate. The 4th car in my collection, 1192SB was recently reunited with its original UK reg number 808PKN. The photos below show how it arrived to me. I have subsequently stripped it to the frame for restoration.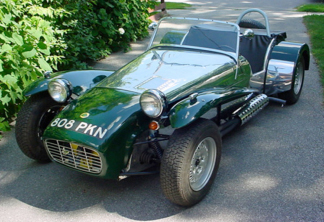 The car competed in California late 60's/70's in the hands of an individual called Mel Bliss (who I believe is now deceased) and may have had a rotary wankel engine installed at some point. The original frame (and number) has survived apart from it being converted to LHD. I will convert it back to RHD and original spec, in effect a total rebuild. It came with a sizeable amount of spares, and the retention of the original UK license plate has been most useful in independently verifying its history.
One anomaly the engine, its not clear what was originally in it a 105E, or a 1340? Apparently it had already been changed to a 5 bearing block before leaving the UK. The report from Canada (last seen on SimpleSevens in 2010) read as follows:
Previous owner reports: According to John Watson, 808PKN left the Lotus factory at Cheshunt, on May 9th, 1961 as a bare aluminum bodied, yellow gel coat, complete car (not a kit) with a Ford 105E, 997 Anglia engine with twin SU carbs. It was registered the following month in Kent County as 1192SB not the correct SB1192 and it has carried the incorrect VIN number ever since. That's when 808PKN got its UK license plate, which has been affixed to the nose cone ever since.
One of the UK owners (Alan Matthews) did many modifications for either hillclimbing or racing including twin brake masters, wider rear end (Morris Minor), a wild 1500 pre-crossflow engine with a crossflow head, dual 40 DCOE Weber carbs, custom-built 11" aluminum rear fenders and Lotus wobbly wheels. How 808PKN got to California is a mystery, but one of the owners there added a wankel engine which subsequently blew up and created wonderful holes in the bonnet and left-hand side panel. The picture of the dune-buggy ROTUS shows the sorry state it was in just before it was completely disassembled in 1975.
808PKN got a new owner in 1976 who purchased it as a basket case. The basket case subsequently moved from California to Maryland and remained in the new owner's basement for 25 years. The combination of the California climate and basement storage kept the car virtually rust free for over 25 years.
In 2001, 808PKN was purchased as a basket case and moved to a suburb of Toronto Canada. Here's what it looked like in April 2001: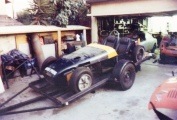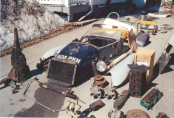 After 2 years and two months of restoration, 808PKN came to life again on June 11, 2003. It has retained the wide rear end and 1500 pre-cross flow engine. If anyone knows the whereabouts of the original owner G. Freeman or another UK owner, Alan Matthews, I would appreciate contacting them.