By Previous Owner - May 2014: Photos taken as SB1096 is collected for display at the Caterham F1 facility...
November 2012: Over the years like many of these cars SB1096, ended up with a Henry Ford transplant. I am in the process of restoring it back to its original powertrain and have already sourced a correct 948cc Sprite Engine/Gearbox removed from a car over 30 years ago and a correct Standard 10 rear axle.
I am reliably informed the frame number is correct, Oregon title, owned since 1984 with bill of sale, correct VIN plate as well, crated in California for me minus its engine and gearbox - the original BMC unit being replaced with a Ford. I have restored to original spec.
Below: a photo of the lot as purchased having been sourced by Tony Ingram of lotus7.com (this will open in a new window, close that window to return to SimpleSevens.)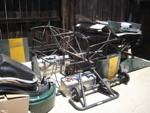 As offered for sale, December 2008: My family and I own a 61 Super 7 #SB 1096 and have it down to a bare frame remodel.
FRAME: Triangulated and gusseted to Ortenberger specs. Does not include cross beam that goes across passenger side to bottom of foot well. The horizontal beam in the front boxed section of the frame is removable to facilitate getting the engine in and out. The hoop that went under the transmission (located on the bottom of the fire wall) was removed to facilitate the installation of the Leason Gear box. The rivet holes have all been welded, but the tits have not been sanded off.
RADIATOR AND OIL COOLER: Mounted in front of the fore frame box section.
DRY SUMP TANK: Mounted on the left side next to the fire wall.
BATTERY: moved to back
FRONT SUSPENSION: Original including the sway bar
REAR SUSPENSION: Five link. Equal length upper and lower trailing arms. Pick up points are behind the seat back box section of the frame. The original trailing "A" arm pick up points are still in place. (If you're so inclined.) Panard Arn - Adjustable for roll center control.
FUEL CELL: Custom made 9 gallon - top fill.
ENGINE: The engine started out life in a Formula Atlantic car. It has been detuned to the following specifications, and has dyno time only: Torque band - 3,500 to 8,600 - the engine will spin a lot faster, but what's the point? Pistons (Cosworth) - part #BA 8178 - 1700CC from BDR engine. The tops of the pistons were shaved to lower the compression ratio so premium pump gas could be used. (Actually, 100/120 aviation gas would be better) Cams (Cosworth). INLET - DA 2 - 105 degrees open after TDC. EXHAUST - BD 3 - 110 degrees open before TDC. Tappet Settings - INLET - 8 to 9 Yup! You're right. It's going to sound like a wheat thrasher. EXHAUST - 11 to 13. Carbs - Weber 45 DCOE re-choked to approx 32mm. NOTE: You will need to fabricate the linkage. I've got the parts, but just never got around to it. Exhaust: Shielded side mount with glass pack and super trapp to keep der fire spitten loud -n- boomer tame. Comes out in front of rear fender.
CLUTCH: Cosworth dual dry plate (From the rally car set up) - Sorry no part number. FLY WHEEL: Cosworth - Part #CT 900013 - alum. - Light little sucker
GEAR BOX: Leeson - Straight cut /dog rings (the figures are based on a 391 pumpkin assembly - never could find a 411) *NOTE - You're probably going to need a shift linkage extender unless you're directly related to the primate family. Check with Dave Bean, he used to carry them. 1st gear: 13:27 - Takes you up to approx. 62 MPH (2,400 RPM drop to 2nd)
2nd gear: 17:23 - Takes you up to approx. 91 MPH (Better not have clam shell fenders) (1,900 RPM drop to 3rd)
3rd gear: 25:/27 - Takes you up to approx. 103 MPH (With clam shell fenders fenders you better have a pilot's license)
(1,800 RPM drop to 4th) 4th gear: 28:/24 - Takes you up to approx. 143 MPH (With clam shell fender you must have a death wish - Now I now what the Wright brothers felt like)
DRIVE SHAFT: Has been shortened and balanced.
THIRD MEMBER: Cut down Lotus Cortina (needed splined axels) with new 391 limited slip pumpkin assembly. The limited slip has a pretty high break away, but I don't recall how many pounds.
INTERIOR: Instrumentation original with 10 K chronometric Smith tacho. The tach has a 4 to 1 drive. (I'm not sure whether this is correct or not. I think it might need a 2 to 1 reduction.) Some one dropped my original ammeter. Yup!! It's in pieces, but it can be fixed if you don't have another. Original three spoke aluminum wood steering wheel. It has been restored, and even has the original green Lotus badge. Seats - Fiberglass buckets with 5 point restraint.
TOP and HOOPS: Are newer, but the side curtains are old. WINDSHIELD: Alum. posts are looking good. The glass windshield has a little crack in the lower right hand corner next to the post. Alum. tape used to fix.
ORIGINAL: HEAD LIGHTS, TAIL LIGHTS and WINDSHIELD WIPERS
DETACHABLE ROLL BAR WITH SUPPORT TO REAR
2 SETS OF FRONT CLAM SHELL FENDERS
ORIGINAL AND 11" REAR FENDERS
ORIGINAL REAR SPARE TIRE MOUNT
NEW HEAVIER GAUGE FLAT ALUMINUM PANELS HAVE BEEN CUT USING THE ORIGINALS AS TEMPLATES.
SORRY! NO TIRES OR WHEELS - THEY GOT RIPPED OFF.