Lotus MKVI #58
Reg. #SZ 9119 Chassis #58

HISTORY
First owned by Chris Lindsay of Downpatrick, Northern Ireland and registered for the road SZ11, it was painted British Racing Green and powered by a Ford EOTA four cylinder 1508cc Consul engine. It was raced by the owner and Leslie Innis at Kirkistown, Dundrod, Craigantlet Hill Climb and Wicklow during the 1954, 1955 and 1956 seasons in various specifications. With the Ford Consul unit normally aspirated on single and twin carburettors, and also blown with a front mounted supercharger and finally with one of the then new FWA Coventry Climax engines fitted. Also latterly with wire wheels to the front and sometimes with twin wheels bare of wings to the rear. The car gets a mention and is pictured in the Autosport issues of both 25th June 1954 (Kirkistown) and 20th May 1955 (Dundrod).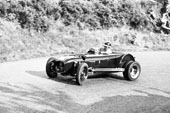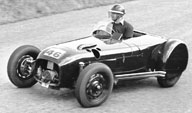 Leslie Innis at Craigantlet 14-07-1954 with double and with single rear wheels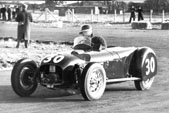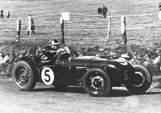 29-03-55 at Kirkistown with supercharged Ford Consul engine,
and 14-05-1955 at Dundrod with unsupercharged Ford Consul engine
On 12th June 1958 the car was re-registered SZ9119 (as the owner wished to retain the SZ11 mark) and sold less engine and gearbox. The new owner was not known and the car was 'lost' until it re-appears competing in a Seven Oaks & District Motor Club Driving Test with a R. H. Coman on 25th March 1962 with what is probably a 1172cc Ford side valve engine. According to the Continuation logbook the next that is known of the car is on 11th December 1974 when owned by Robert James Nield of Cambridge with a Ford 1172cc side valve engine. According to the logbook further owners were: John Frederick Dixon Ashby of Eastbourne (27th July 1977), Stephen Charles Goddard of Eastbourne (n.d.), Gavin John Parrish of Hailsham (3rd October 1980), Brien Gibson of Wakefield (14th November 1981, Miles Renton Skinner & Vincent Haydon (12th April 1999) and finally the current owner (2nd September 2002).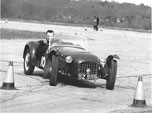 25-03-62 Seven Oaks & District Driving Test R.H. Coman, probably Ford sidevalve engine
Whilst the condition of the car looked to be satisfactory when the current owner bought it, all the panel work was new and in much heavier 16 gauge aluminium and the chassis was in need of proper repair. In addition the owner thought it best to revert to the 1954 specification of 1508cc Ford Consul engine and (MG TC?) 4-speed gearbox. The ground-up restoration was carried out by F. J. Fairman near Bodmin, Cornwall. The appropriate engine and gearbox were sourced and a special 4.125:1 CW&P was made for the car along with six other sets by Guest Gears of Chesham.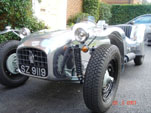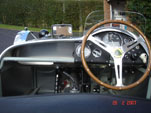 Complete with Ulster Automobile Badge, Dashboard as restored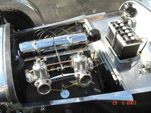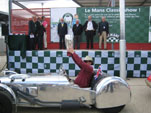 Engine Bay as restored, For Best Club Stand
Since completing the restoration the car has been driven to the Lotus Show at Donington in 2007, Classic Le Man in 2008, the 60th Birthday Celebrations of Lotus in the same year and various events at Castle Combe and Silverstone.
JWW
28-Sep-2009