Phil Roettjers's Lotus MKVI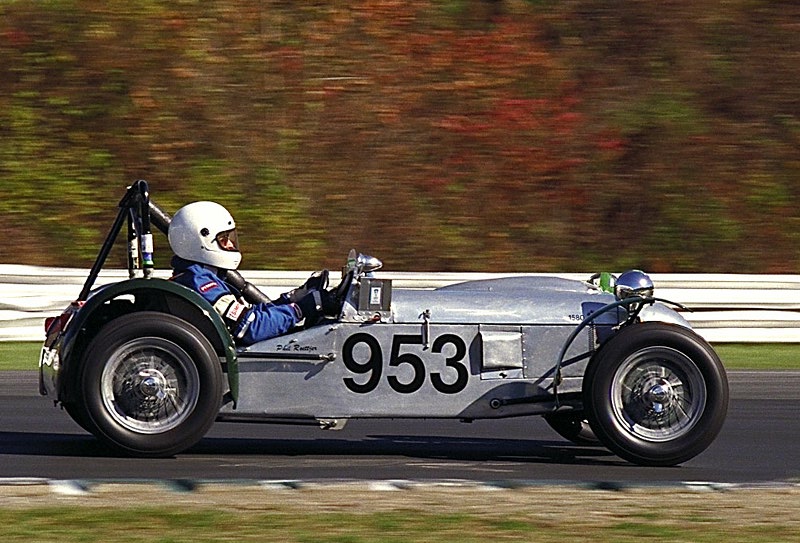 I purchased the car last January from Vintage Racing Services in Stratford, Ct. The car had been owned and campaigned by Richard Cresch from New York City from 1996 to 1999. Prior to that it was owned and campaigned by the owner of Vintage Racing Services, Kent Bain. The car was originally owned by Caterham and was purchased jointly by Kent Bain and Mark Evans in the early 80s. At that time the car had a non-original engine installed, a BMC A. Kent researched the car and discovered it originally had a Ford Consul motor so he did a search in England and came up with the proper motor. The car was then accepted into the VSCCA and its racing career was started.
The car was restored from the frame up in the early 90s. The front brakes and spindles were upgraded to Healey 100, the rear end is MGA modified to accept coil springs and trailing arms. The steering has also been converted to rack and pinion. The car handles great on the track and can keep up with most of the sevens (the exception being the Climax powered cars). Lotus 6s came with four engine options. The first being the 1500 cc Consul one installed in this car. They also could be purchased with and MG XPAG 1500 cc, a Ford 100E, or the Climax engine. The major disadvantage to the Consul motor is weight. It has quite a massive block for an engine that size. The good thing is that it is a very durable engine.