John W. Watson's Lotus MKVI Chassis #5
UPE9: First registered 1954, chassis likely built in 1953

HISTORY:

The first owner was Peter Gammon, a Draper from Guildford in Surrey England. Peter started racing in 1952 and was very successful with an MG Special. In 1953 he saw how fast Colin Chapman's new Lotus Mark VI's were and felt that in order to stay ahead of the field he would need a Lotus chassis. This he bought at the end of the season, transplanting his highly tuned and bored-out MG XPAG engine into it.

This new combination of car and driver were virtually unbeatable in the 1500cc class in 1954 gaining 14 wins, 2 second places and 1 thind place from 17 starts. During the 1954 season Peter in UPE9 along with Colin Chapman in the prototype Lotus Mk VIII SAR5 and Mike Anthony in another Lotus Mk VI NUF100 made up the first Team Lotus team competing first at Oulton Park in the Empire Trophy race and later winning the team event in the British Grand Prix support race for sports cars at Silverstone.

At the end of the season Peter sold both his MG Special and UPE9. The latter went to an elderly and eccentric Kent cider producer named Lt. Col. R. White who raced the car for some 18 months. During the next 20 years several people owned and competed in the car in the UK. In 1960 Ken Le Riche took the car to Jersey for the annual Boule Bay hillclimb and overturned it whilst touring around the island.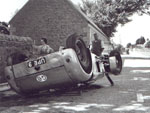 In 1978 UPE9 was acquired by Graham Nearn of Caterham Cars who had the car restored by Mike Brotherwood with new aluminium body panels by Williams and Pritchard. In the early 1990's it was once again driven in anger for Graham Nearn by John Lyons. The present owner acquired the car in 2004.
SPECIFICATION (peculiar to UPE9):
Non-original MG XPAG engine of approximately 1320cc. MG TC 4-speed gearbox. Original Morris 10 'live' axle supported by a lower pair of trailing arms and an upper 'A' frame arrangement. Hydraulic drum brakes. Non-original rack and pinion steering fitted sometime in the 1960's. Original lowered steering column. (Peter Gammon was small in stature.) Elektron Turner wheels with integral brake drums and forward venting slots to the rear wings.
FUTURE:
Whilst the car performs well there are a number of issues that need sorting if it is to be used properly again:-
The rear springs appear to become coil bound over the slightest bump suggesting they need to be stiffer or longer or both.
There maybe breaks or weaknesses in the chassis frame as it has never been checked over properly.
The magnesium wheels are over 50 years old and need checking over and possibly replacing.
The CW&P in the Morris 10 axle in a 5.5:1. It needs replacing with a 4.4:1. At present there is a Ford Anglia axle in place and this should be changed.
Both Water and Oil Temperature gauges are later electric items and there require replacing for ones of the correct period.