Joe Petty's Lotus 7
1962
SB1478
Florida, USA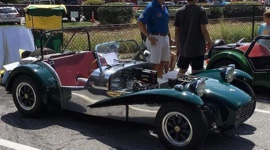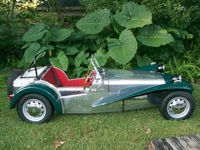 STOLEN between Sat 9/8 8PM to Sun 9/9 7AM
Hampton Peachtree Corners Hotel
440 Technology Pkwy, Norcross, Ga
Van and Trailer were recovered Wed (9/12) in Chamblee, Ga
Lotus 7, description below, is still missing
1962 Dark Green/Aluminum Lotus 7 SB1478 - Florida License plate: 62 SEVEN
Dark Green fenders and nose with polished aluminum
Red interior and dash
1500cc Pre-Crossflow Cosworth Ford
This is a genuine Lotus 7 Series 2 restored to original condition.
Owner has documented identification numbers of frame, engine, carburettors, etc.
As well as minor modifications that are not common to other Sevens.
This car should be easily identified if seen.
These are some of the easily identified (harder to disguise features):
- Right hand drive
- Wooden steering wheel
- 155x13 tires on Minilite rims
- Air scoop on left side of hood
- Tow ring under right front frame rail
If you see this car on the road or advertised,
call the police, then contact Joe Petty!
(904) 524-9717
joepettyjr@yahoo.com
Don't be a hero and don't get scammed!